Can you believe how quickly 2012 just flew by? It's crazy to think that we'll soon be celebrating the beginning of a new year! And there's no better way to celebrate than with some all-time favorite crochet patterns. Don't worry, I've already found them for you. Ta da!
There are about 50 out of the top 100 patterns in this picture, so there's plenty more to see! These patterns were well liked over the course of the year so we put them all together in one place just for you. I have a few favorites from this list, so here they are! I picked a few to help give you an overview of what this list contains. Don't miss out – view the whole list here!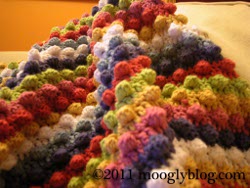 Small Blackberry Salad Striped Baby Blanket – I just love the texture of this baby blanket. Know who else will like this texture? Babies! They'll love to play and touch the bobbles on this blanket. Paired with the pretty colored yarn, this blanket will have them entertained for hours. Because once a baby can lie on her tummy and take in the world around her, blankets become a sort of play-mat. If you make this baby afghan to give as a gift, you can be sure that your crocheting will be complimented!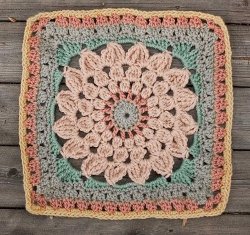 Kata Square – I think I may be a little bit obsessed with flower crochet squares. This is my favorite flower square and it's a reader favorite as well. It's a dainty 12 inch square that incorporates some beautiful colors that were definite favorites in 2012. Peach, coral, and teal are all colors that seemed to pop up in clothing, jewelry, and of course crochet. Putting these crochet squares together will make a springy afghan for a girls room or to drape over the back of a couch. It has a "cottage" feel and I just love it.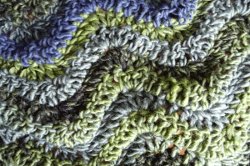 Crochet Waves Throw – I also love ripple patterns. So soothing to crochet and pleasing to the eye. I never get tired of looking at ripple afghans. And while I like almost all ripple patterns, this one speaks to me. Blue is one of my favorite colors and this afghan reminds me of the lake by my cottage in the summer. Calm waves of crochet mimic the cool water and the ripples from skipping stones. This afghan makes me wish it was summer right now. So, crochet this afghan while you wait for winter to pass and you'll be splashing in the waves in no time.
So, there's a sneak peak! Be sure to check out 100 Favorite Crochet Afghan Patterns to see more patterns and pictures so you can find your new favorite afghan pattern!
Can you pick you favorite pattern? Comment below or comment on the 100 Favorite Crochet Afghan Patterns telling us your favorite!
Latest posts by AllFreeCrochetAfghanPatterns
(see all)