We all have days when the car won't start, the kids can't find their homework, the traffic's backed up for miles, and that one ingredient you absolutely need to make dinner has mysteriously vanished. On those days when absolutely nothing seems to go right, all I want to do is sit back with a glass of wine and an easy knitting pattern—the kind without any counting or complicated stitchwork. No matter what the source of your funk, we're here to help bring your blood pressure back under control. Cast on one of these simple stress-free patterns and relax into the soul-soothing click of your needles.
Knitting Garter Stitch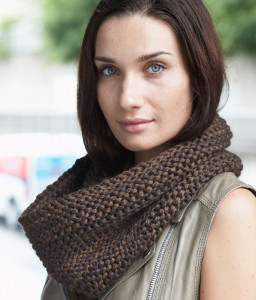 Ah, our good friend garter stitch. You really can't get simpler than knitting all the stitches. These patterns are perfect for curling up in front of the TV and knitting back and forth until  you find your bliss. If it proves elusive, knit two, or three, or four. We won't judge.
Cozy Coffee Shop Cowl – Take a break from the daily grind with a knit cowl pattern inspired by a grind of another kind.
Jewel Thief Mitts – The easiest mitts you ever did knit. No purling, no shaping—just a knit rectangle and a simple seam.
Basic Chunky Slippers – Minimal shaping and a fuzzy pompom make these the quickest and cutest way to tickle your toes. Work's not so bad when you know you've got these waiting for you at home.
Asymmetric Wrap Poncho – A few rows of short row shaping give this easy poncho its distinctive shape.
Free Knitting Patterns in Stockinette Stitch
Whether you're knitting flat or in the round, stockinette is another marvelously meditative stitch. These worry-free stockinette stitch patterns practically knit themselves, allowing you to zone out and knit your way to Nirvana.
Charming Charcoal Everyday Cowl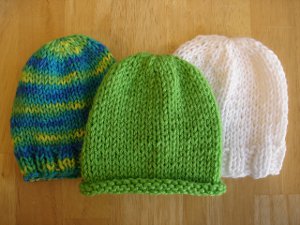 – Stockinette and reverse stockinette create texture without making you tense.
Quick Malabrigo Beanie – A few rows off seed stitch, and then you're off to the races with this thought-free stockinette stitch hat, which lets variegated yarn do the work for you.
Hi-Lo Poncho – A super-simple poncho. Sleeves and a keyhole neckline add interest, but not difficulty.
Lickety-Split Baby Hats – Their small size makes baby hats some of the most rewarding stress-relief projects, and these are as quick and easy as they come.
Knit Blanket Patterns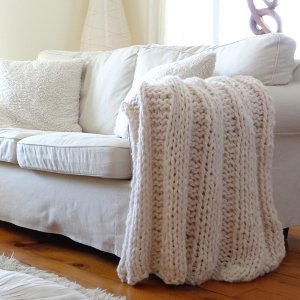 There's something soothing a knit baby blanket or afghan. Cuddle with these super-simple blanket patterns as they puddle on your lap to inject some much-needed tranquility into your life.
Country Cottage Blanket – Three-stranded 4×4 rib means you'll fly through this ultra-easy blanket.
Simple Quick Knit Throw – Bumpy and chunky and blissful to knit.
Three Wishes Baby Blanket – Knit in garter stitch, this great gift lets you focus on the health, happiness, and love you wish to give with it.
Bonus
Knitted your way through this list without finding your happy place? Knit yourself a few Stress Ball Buddies to keep the strain from building up.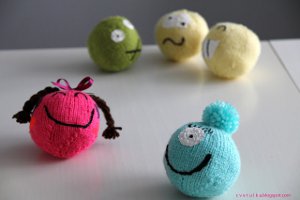 Stressed out? Decompress with these 10 Rainy Day Crafts for Grey Skies
What's your go-to pattern for a path to knitting Nirvana?
Latest posts by AllFreeKnitting
(see all)