I've never met more picky kids than my two little sisters. From not wanting their food to touch other food on their plates to refusing to wear clothes made out of certain fabrics, it can be hard to please either of them. That's why I kept them in mind when I put together our latest collection of patterns, 12 Crochet Patterns for Kids, Tweens and Teens. After all, crocheters love to give their crocheted afghans to kids for gifts. So before you pick up your hook to crochet a simple granny square afghan for your niece or nephew, take a look at these patterns. You might be surprised to find that maybe kids want something a little different these days.
I asked my sisters which patterns from this list they like the most. Here are the top three choices from the pickiest girls I know: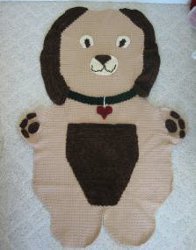 Cuddle Dog Afghan – My little sister said, "Ohhh that's so cute!" when she saw this afghan. She's nine years old and we just got a new dog in April. She's all about drawing dogs, cuddling with our dog, talking about our dog (she's quite the chatterbox). Now she wants me to crochet this afghan for her! In all my copious spare time, I will hopefully be able to! This afghan is great for any kid who loves dogs, and you can even customize it to match the colors of your family dog too!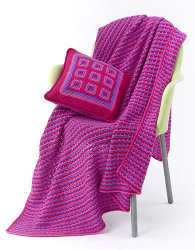 Tween Pillow & Throw – My sixteen year old sister said "That's very cool, I like that" when she saw this pattern. I think she was most drawn to the neon colored yarn that this pattern uses. Neon is a very popular color scheme these days. My sister's room is bright green and blue, so she thinks that this afghan would look great in those colors as well. The matching pillow will help tie the whole bed together. Crochet this afghan to really brighten up a tween's room and make them smile.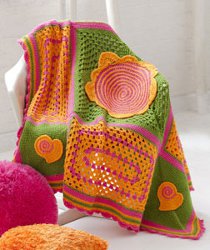 Teen Throw – My youngest sister was actually more drawn to this afghan than my sixteen year old sister. She loves the big flower and whimsical hearts that this crochet throw incorporates. In case you're wondering, she now wants me to crochet this afghan for her as well. I better get busy!
Want to see the other patterns? Definitely check out all 12 patterns here. There are patterns for boys too, so take a look!
Do you have trouble crocheting for picky kids?
Latest posts by AllFreeCrochetAfghanPatterns
(see all)