Garter stitch is one of the easiest stitches in knitting because it doesn't require you to alternate the kinds of stitches you're doing. You can just do the same thing over and over. It's great for when you're figuring out how to knit and need to practice the basics and get the movements down pat. (I'm just learning how to knit garter stitch myself by working on an easy scarf knitting pattern.) It's also great for more advanced knitters who want a simple project to work on while doing other things, like watching TV or chatting with friends and family. Because knitting garter stitch is so simple and versatile, I've collected 16 Garter Stitch Knitting Patterns You Won't Want to Miss for you to enjoy. Organized by skill level, you should be able to find something to suit your tastes in these patterns, whether you're just starting out or are a seasoned knitter.
16 Garter Stitch Patterns You Won't Want to Miss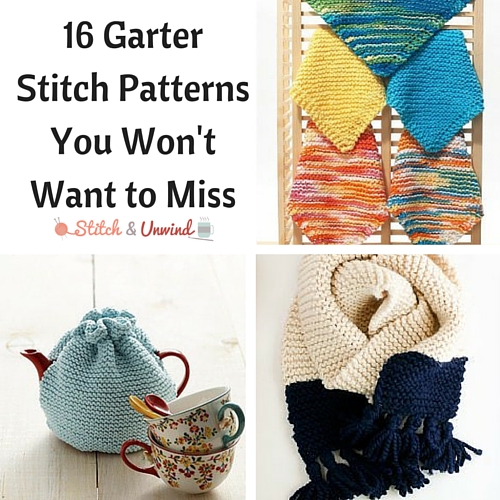 Garter Stitch Knitting Patterns for Beginners
These simple knitting patterns are perfect for beginners. They're simple, attractive, and won't take up tons of your time.
Easy Knitting Patterns in Garter Stitch
These easy knitting patterns are slightly more complex but still simple. Most knitters who aren't just starting out should be able to tackle these.
Intermediate Patterns for Knitting Garter Stitch
While these free knitting patterns aren't easy, they're still super cute and make good use of garter stitch. Intermediate knitters should be able to take on these garter stitch knitting patterns with confidence.
If you want more patterns like these, don't miss our list of 20 Simple Knitting Patterns in Garter Stitch!
What's your favorite garter stitch knitting pattern?
Latest posts by AllFreeKnitting
(see all)