When I think of February 14, I think of Valentine's Day cards, dinner at a favorite restaurant, boxes of chocolate, and long-stemmed roses (please tell me I'm not alone!). While those are all tried-and-true ways of celebrating the occasion, they're also predictable. Dull. Ho-hum. You get the picture. I'm thinking of making a change this year by branching out and creating easy crochet patterns for last-minute Valentine's Day gifts to create presents for everyone on my list.
While I could grab a present off the shelf at my nearby grocery store in time for the holiday, where's the fun in that? With a little bit of time, some prep work, and a trip to my favorite yarn store, I can make something completely unique. What's even better is that these gifts can't be found online or in a department store. At the risk of sounding corny, giving a handmade present is truly something from the heart.
If you're ready to use your crochet hooks to spread the love and make something completely unique for your family and friends, then you're in the right place. From heart appliques to beautiful red shawls, we have free crochet patterns for everyone on your list. Feeling a bit busy? Don't worry. These projects won't take long for you to create. What I love most about these crochet patterns is that they include cold weather gear. We even have an easy crochet pattern to make a snood that will keep your dog warm! There's still a lot of winter left in many parts of the country. Wouldn't you want your loved ones to feel warm inside and out?
What do you do if the person you're making a gift for doesn't like hearts or hates the color red? Don't worry. We here at AllFreeCrochet have a ton of patterns that will make great gifts, are easy to make, and can be created in an afternoon or over your lunch break at work. Grab your hooks, some yarn, and get crocheting!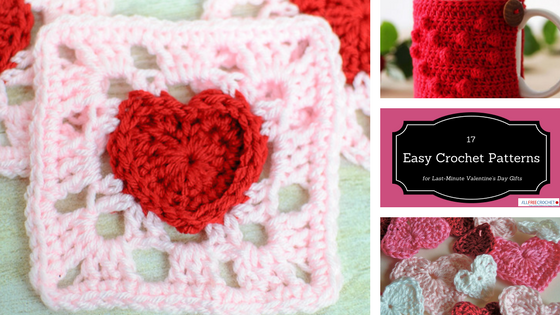 17 Crochet Patterns That Your Family and Friends Will Love
Crochet Accessories and Home Decor
Quick Shawls, Hats and More For Everyone in Your Family
You can also choose your favorite crochet messy bun hat pattern to make for anyone you know, from your mom or sister to your best friends for a special Gal-entine's Day treat!
What is your favorite craft to make for Valentine's Day? Let us know below in the comments!
Latest posts by AllFreeCrochet
(see all)