Skinny jeans may get all the press, but oversized crochet patterns are definitely worth a look this winter. We're talking about sweaters, cardigans, scarves, and more that you will find are anything but form-fitting. Picture flowing ponchos, scarves that can almost be mistaken for blankets, and sweaters with plenty of arm room, and you've got the idea.
So why would you want to make (deliberately, we might add) a super scarf or oversized cardigan? It's all about warmth and layers, baby. These crochet oversized patterns are amazing, as they offer enough room for you to add on the extra layers on a cold winter's morning without piling on too many bulky materials. With this style, a sweater that barely fits is out and extra space to move around is in.
Here's what fashionistas can expect with this style of design. Super scarves can be wrapped around your neck over, and over, and over, or simply draped around your shoulder. Shawls in this style can almost double as dresses (if you'd like, just cinch with a belt for a different look). Don't forget the chunky oversized sweater design, which will add plenty of insulation while perhaps hiding those last pesky holiday pounds. Just think baggy when it comes to this delightful crochet trend! And whether you're working with worsted weight yarn or bulky yarn, make sure you choose the right crochet hook for the job!
Crocheters planning to start a project for a loved one will also love the oversized trend. You won't need the recipient's exact dimensions to create a custom fit for a sweater or shawl; simply make your best guess, then add on extra rows or crochet stitches to create the look. Your family and friends will love shrugging on an oversized crochet sweater or getting wrapped up in a shawl that offers more than a little wiggle room in size.
Feel like adding more of these oversized crochet patterns to your wardrobe? Then keep reading. At AllFreeCrochet, you can find additional wraps, shawls, and other larger cold weather items that will offer plenty of room.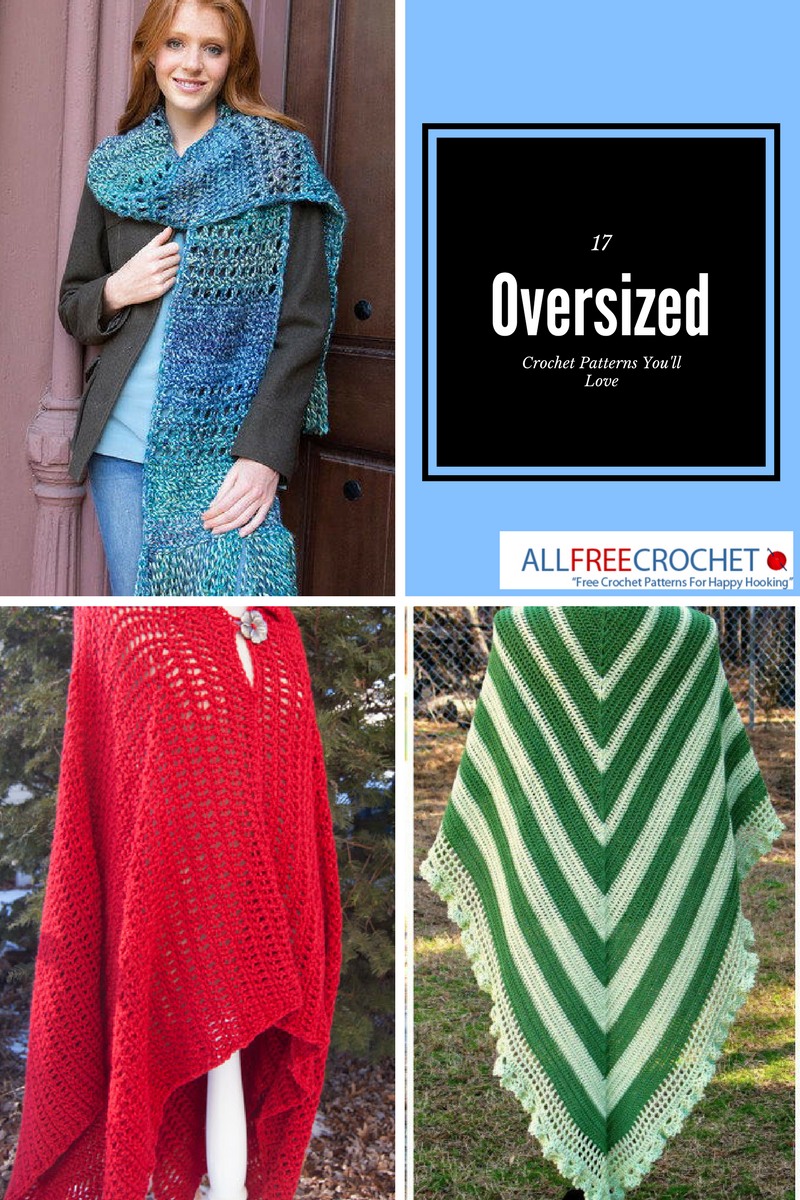 Oversized Crochet Patterns for Scarves and Wraps You'll Love
Oversized Ponchos, Shawls, and Other Delights
What is your favorite oversized crochet pattern?
Latest posts by AllFreeCrochet
(see all)