Picking up shells has always been my favorite thing to do when I visit the beach. However, as I get older, I find I have less and less time to go to the beach. When I'm feeling nostalgic for those big buckets of fishy-smelling shells, I tend to pull out some shell stitch crochet patterns!
Shell Stitch Crochet Patterns
The shell stitch is one of the most beautiful and versatile stitches in crochet. First of all, the stitch makes a lovely border on almost any afghan or granny square. Secondly, if you crochet the stitch in a circle you get a gorgeous star-like pattern. Thirdly, the unique texture of the stitch pattern looks absolutely gorgeous when used in any clothing pattern.
In short, shell stitches are way better than beach shells.
The good news is if you've never attempted this stitch before, AllFreeCrochet has plenty of tutorials for the stitch itself, using the stitch as a border, and even creating a more solid version of the stitch for thicker afghans.
If you're already a self-professed shell stitch pro (or you've seen those tutorials and are ready to try a project), then the following patterns are for you!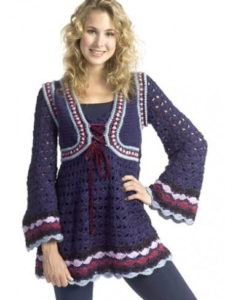 Women's Slanted Shell Slippers
What's your favorite crochet stitch?
Latest posts by AllFreeCrochet
(see all)