Show your state pride by crocheting one of these crochet afghan patterns! Some feature the state flower, the state motto, state gems and so much more. If we could send you a postcard from us to you, this is what we think it would look like!
Alabama –  Camellia Flower Square (state flower)
Alaska –  Alaskan Blue Tunisian Afghan
Arizona – Turquoise Blanket (state gem)
Arkansas – Diamondghan (state gem)
California –  California Ranch Afghan
Colorado – Colorado Mountain Ridges Square
Connecticut – Colonial Charm Afghan
Delaware –  Fox Afghan (state animal)
Florida – Sabal Palm Tree Square (state tree)
Georgia –  Georgia Peach Baby Blanket
Hawaii –  Malibu Ripple Afghan
Idaho –  Mini Gemstone Octagons (The Gem State)
Illinois – Chicago Blackhawks Afghan
Indiana –  Notre Dame Afghan Chart (paid)
Iowa –  American Heartland Crochet Afghan
Kansas –  Sunflower Afghan (state flower)
Kentucky – Kentucky Rocking Horse Blanket
Louisiana – Louisiana Mardi Gras Afghan
Maine –  Eliot Maine Square
Maryland –  Black Eyed Susan Squares (state flower)
Massachusetts –  Mayflower Baby Blanket (state flower)
Michigan –  Lakeshore Plaid Blanket (The Great Lakes State)
Minnesota –  Starry Nights Afghan (The North Star State)
Mississippi – Magnolia Afghan (state flower)
Missouri –  Ice Cream Cones Square (state dessert)
Montana –  Native American Blanket
Nebraska –  Maize Fireside Afghan (cornhusker state)
Nevada –  Sagebrush Raised Rib Crochet Blanket (state flower)
New Hampshire –  Purple Lilac Baby Blanket (state flower)
New Jersey – Blooming Violet Square (state flower)
New Mexico –  New Mexico Afghan
New York – Rose Afghan (state flower)
North Carolina – Emerald Crocodile Stitch Afghan (state gem)
North Dakota – Sunflower Square
Ohio –  Ohio State Crochet Chart (paid)
Oklahoma –  Oklahoma Afghan Chart (paid)
Oregon –  Oregon Afghan Chart (paid)
Pennsylvania –  Pennsylvania Dutch Throw
Rhode Island –  Violet Garden Afghan (state flower)
South Carolina –  Amethyst Square (state gem)
South Dakota –  Rose Quartz Flower Hexagon (state mineral)
Tennessee –  Songbird Square
Texas –  Texas Lone Star Square
Utah –  Mountain Mist Afghan
Vermont –  Apple Afghan (state fruit)
Virginia – Virginia Colony Afghan
Washington –  Dragon Fly Square (state insect)
West Virginia – Charleston Garden Afghan
Wisconsin –  Wisconsin Afghan Chart (paid)
Wyoming –  Cowboy Boots Afghan Chart
BONUS!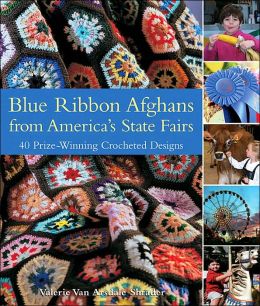 Enter to win Blue Ribbon Afghans from Americas State Fairs: 40 Prize-Winning Crocheted Designs. Filled with amazing, REAL, prize-winning afghans from REAL state fairs across the United States, you'll get to experience the charm and wonder of each exquisite afghan pattern in this book. Deadline to enter is February 5th, 2014 so don't miss your chance!
Tell us: What do you love most about your state?
Latest posts by AllFreeCrochetAfghanPatterns
(see all)