With temperatures expected to skyrocket into the 40s next week, it seems as if spring is finally starting to make an appearance. However, I don't think we're in for sunny days and picnics quite yet. As everyone knows, April showers bring May flowers, so I think we can expect a wet first few weeks of spring. I know not everyone is a fan of rain, but I'm somewhat partial to dark and dreary days. They're a great excuse to stay indoors with a good book and a cup of something hot. What's the perfect accompaniment to a heartwarming cup of Joe or a mug full of tea? That's right, a easy coffee cozy pattern. These cozy little knits are hard to pass up. They're fun, quick to knit, and a great stashbusting idea.  Keep reading for seven easy ways to customize your beverage of choice.
7 Fun & Easy Coffee Cozy Pattern Ideas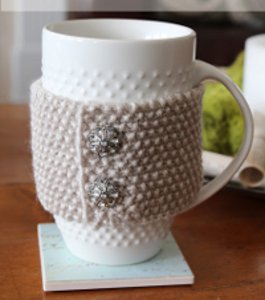 Vintage Charm Cup Cozy – This darling coffee cozy pattern is one of my favorites on AllFreeKnitting. The beautiful Victorian buttons add a Downton Abbey touch of glam to the rustic-chic seed stitch texture. I love the subtle warmth of the dusty rose-colored yarn used in the Vintage Charm Cup Cozy, but any other scrap yarn would work just as well.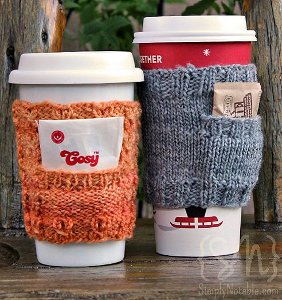 Cabled Pocket Cozy – This is the ultimate coffee cozy pattern for late night study sessions and frantic pre-test memorization at the library. The Cabled Pocket Cozy makes a great gift for recent graduates on their way to college. With a sweet little pocket for stashing tea bags and sugar packs, this utility belt of a coffee cozy pattern is sure to become part of any student's study survival pack.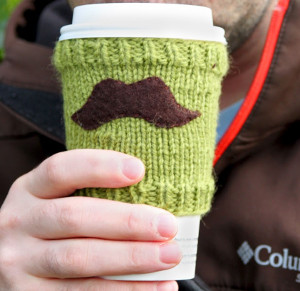 Mustache Cozy – This cute and quirky coffee cozy pattern is perfect for those who like a little whimsy with their cup 'o Joe. The Mustache Cozy is a quick and easy pattern to follow and requires just a bit of sewing to make an accessory that's truly unique. So, I mustache you a question, how can you not make this adorable coffee cozy pattern?
Flying Birds Cozy – Give your coffee wings with this sweet coffee cozy pattern! Haven't tried color work yet? No problem. The Flying Birds Cozy comes with a simple knitting chart so you'll be able to achieve the pretty branches and birds motif. Blue and brown are the perfect color palette for a mild spring day, but any other contrasting colors would show off this pattern as well.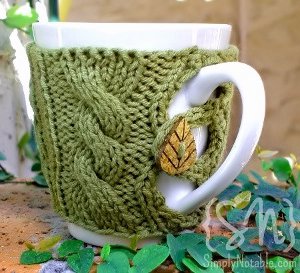 Cabled Leaf Cozy – The perfect coffee cozy pattern for those who prefer a green cup of coffee (green as in organic, people!). Choose an organic fiber and get started cabling up this pretty little cup accessory. Finish off the Cabled Leaf Cozy with a fun wooden toggle and you've got yourself a cozy that's as natural as your Joe.
Posh Cashmere Cup Cozy – Simple and stylish, the Posh Cashmere Cup Cozy makes a perfect gift for the fashionista in your life. This pretty coffee cozy pattern is a fun opportunity to put a unique twist on a simple stockinette stitch pattern. Rummage around your jewelry box for an old pin or brooch to give this chic charcoal cozy a ritzy finishing touch.
Sweetheart Cup Cozy – Show your sweetie you care with the Sweetheart Cup Cozy. This charming pink coffee cozy pattern is adorned with a simple stitched fabric heart for a darling look. A fun pattern for beginners as well as knitters looking to get rid of some scrap yarn, this lovely pink cozy is sure to warm your heart as much as the beverage inside.
Which coffee cozy pattern is your favorite?
Latest posts by AllFreeKnitting
(see all)