As magical as the holiday season can be, there are a ton of stressors that can bring us all down. Frantic gift shopping, over-consumption of sugary treats, and never-ending party invites are just some of the things that can cause emotional, spiritual, and physical wear and tear. Remember to take some time for yourself this holiday season. It's okay to be a little selfish every once in awhile. Go on a long walk with the dog or take in a movie on a night you would normally go out. Whatever it is, have a plan to relax!
Here at AllFreeKnitting, we totally understand how stressful the holiday season can be. That's why we've rounded up our coziest Christmas blankets for your napping pleasure. A warm winter blanket is not only good for sleep, it's good for the soul. Enjoy!
A Warm Winter's Nap: Knit Blanket Patterns for the Holidays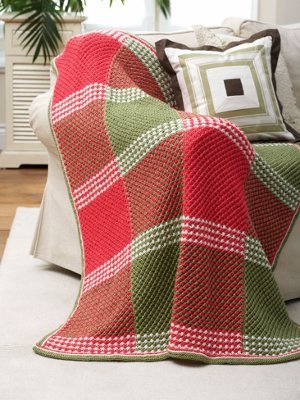 Holiday Squares Blanket –  This festive, geometric-inspired knit blanket pattern is the ultimate holiday party knit. Drape it over a couch or an easy chair for instant Christmas cheer at your next winter gathering.
Grandma's Favorite Holiday Afghan – This rustic-chic knit blanket pattern is a subtle way to add a little holiday spirit to any room of your home. The checkered design is a delightful way to infuse a bit of Christmas charm into your shabby chic decor.
Festive Star Afghan – Love decorating for the holidays? Then you'll love the Festive Star Afghan. Its eye-catching starburst design is sure to garner many compliments over the Christmas season.
Snowman Afghan – Snowmen are a seasonal classic, so what better idea than to incorporate them into a cozy Christmas blanket? This darling, heirloom-quality afghan is a wonderful way to tuck tiny little ones into bed on Christmas Eve.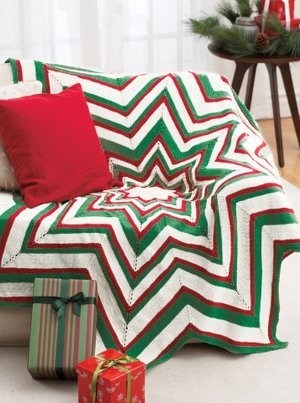 Deck the Halls Throw – This is one item you'll love taking down from the attic every Christmas. The beautiful poinsettia pattern is perfect for the holiday season and will look great draped over your couch, chair, or the end of your bed.
Flame Stitch Afghan –  Keep it sweet and simple with the Flame Stitch Afghan! A simple stitch repeat makes up the entirety of this festive three-color blanket. Perfect for the holiday season as well as year-round warmth, the Flame Stitch Afghan is a pattern you'll come back to again and again.
Cinnamon Twist Afghan – Featuring alternating large and small cables, the Cinnamon Twist Afghan boasts a fantastic texture that will make even the neighbors jealous of your modern holiday decor.
Northern Motifs Afghan – Up for a holiday knitting challenge? Look no further than the Northern Motifs Afghan. Featuring a cozy cable pattern, classic Nordic motifs, and traditional moose designs, this log cabin knit is sure to keep you warm even in the coldest of winters.
Traditional Cable Knit Afghan – There's something about cable knit blankets that scream holiday, and the Traditional Cable Knit Blanket is no exception. This cream-colored classic is a wintery favorite that will warm your home up just in time for Christmas.
What is your favorite way to unwind during the holidays? 
Latest posts by AllFreeKnitting
(see all)