There's something special about knowing that your favorite pair of knit mittens or a beautiful cable knit sweater was handmade by a family member or friend. Even if you don't particularly like the color or style, it will always have a special place in your heart because it was made by someone you love.
Likewise, knowing the source of your yarn can greatly enhance your knitting experience and create a connection between knitter and yarn. It sounds corny, but I always appreciate my yarn so much more when I know a little bit about the farm where it was produced. Many knitters feel the same way, and will spend hundreds of dollars on beautiful, handspun fibers to create unique pieces of knit art.
That's why Lion Brand Yarn is so special to knitting and crochet enthusiasts all over the United States. This popular yarn brand recognizes the fact that many knitters like to support local farmers when possible, so they have worked tirelessly to produce more fibers on American soil. In fact, three of Lion Brand's most popular yarn lines are manufactured in America: Homespun, Hometown USA, and Heartland. Lion Brand is planning on coming out with even more American-made yarn lines in 2014, and I personally cannot wait to see what they have in store. I am a huge fan of all three of their current American lines of yarn, and it's easy to see why.
Homespun is a gorgeous, chunky textured fiber that's soft and silky to the touch. It's the perfect choice for cozy knit sweaters, thick knit afghans, and luxurious shawls. Heartland is a basic worsted weight yarn that every knitter should have in their craft closet. I'm a particularly huge fan of Heartland because its gorgeous colors are inspired by the natural colors of America's national parks and landmarks. Hometown USA is perfect for all your plush, chunky projects. I frequently use this quick knitting fiber for my knit scarves and cowls.
It's clear to see that whatever your next knitting project is, Lion Brand has an American-made yarn to suit your needs. Here are some of AllFreeKnitting's favorite Lion Brand knitting patterns.
Lion Brand Patterns on AllFreeKnitting: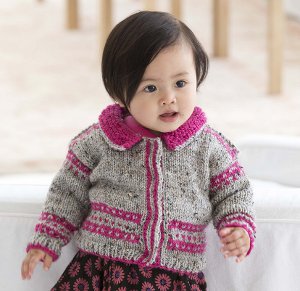 1. Cranberry Kiss Ribbed Hat – Keep warm in style with this basic ribbed hat pattern.
2. District 12 Cowl Wrap – Channel your inner Katniss Everdeen with this cozy winter knit.
3. Slip Stitch Afghan – This gorgeous afghan is full of color and warmth.
4. Anyway Cabled Scarf – This basic cable knit scarf is a classic you'll enjoy wearing year after year.
5. Amazing Mitered Shawl – This beautifully shawl is bursting with small boxes of color.
6. Gray Twist Cable Knit Hat – This simple cable knit hat is a cold weather essential.
7. Chic Baby Cardigan – Dress up baby in this adorable button-up sweater.
8. Entrelac Cowl – This gorgeous woven cowl is a great way to add some texture to your outfit.
9. Knit Lace Afghan – This cozy afghan is as beautiful as it is warm.
10. Two Ball Twirly Scarf  – This fun scarf is perfect for adding a little ruffle to whatever you're wearing.
Have you ever knit with Lion Brand Yarn?
Latest posts by AllFreeKnitting
(see all)