Surely you've all heard of Vanna White's exclusive brand of Lion Brand yarn; perhaps you've even crocheted with it before. But have you ever wondered how that partnership came to be? Vanna chatted with Katie Couric last week and talked all things crochet including who taught her how to crochet, what her favorite thing is to crochet, and how she came to be the spokesperson of Lion Brand Yarn. Vanna even taught Katie Couric how to crochet! If you missed it, find a clip of the segment below, or visit the Lion Brand Yarn blog.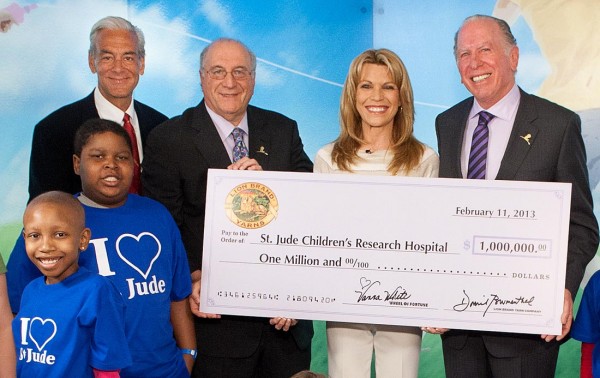 Vanna has also used her role as a Lion Brand spokesperson as an opportunity to give back. After touring the St. Jude Children's Hospital facility in Memphis, White fell in love and selected them to be her selected charity.
In February of this year, Lion Brand was able to give a $1 million donation to St. Jude Children's Hospital based on sales of Vanna's signature yarns. Together, Dean Blumenthal (EVP/COO, Lion Brand), David Blumenthal (President/CEO, Lion Brand), and Vanna presented a check to St. Jude Children's Hospital representing donations of $1 million.
This generous act of kindness comes as no surprise to us. Knitters and crocheters are notorious for having big hearts and giving back to the community.
Just last March, more than 1,700 infants benefitted from crocheters kindness. A total of 1,788 baby hats were donated to the Northwest Community Hospital as part of AllFreeCrochet's Baby Hat Charity Drive. It was truly a rewarding experience to give back to the community through knit and crochet.
There are so many wonderful charity organizations that accept knit and crochet donations. If you'd like to make something for charity, check out our list of accepting charities here.
Have you ever made something for charity? Leave a comment and tell us about it below!
Latest posts by AllFreeCrochet
(see all)