One of the best parts about knitting for kids is that you get to use your imagination and get a little crazy without actually having to wear your creations. Some of my favorite knitting pieces have been those I've made for my tiny nieces and nephews. Whimsical knit sweaters with shooting stars and orbiting planets, adorable knit mittens with repeating lines of pretty pink bows, and darling knit booties that look like sheep. My favorite patterns, however, have been animal inspired knit hat patterns.
I'm sure in several years they'll be outraged that I dressed them in such ridiculous (but adorable) clothes, but right now they can't get enough.  They're constantly running around the house dressed as dogs, cats, and horses (you should see that get-up). Animal inspired knit hat patterns are great for dress-up and other playtime activities. Being able to creative express themselves at a young age is not only fun, but an absolute must. They may be mad at me in the future, but all I will tell them is that they'll have some pretty awesome "Throw Back Thursday" pictures to post on Instagram.
Animal Inspired Knit Hat Patterns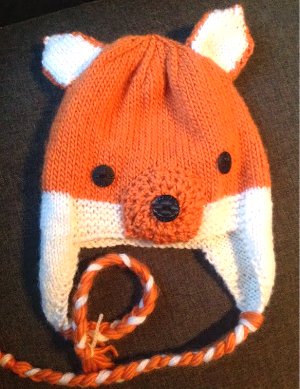 Fox Earflap Beanie – Foxes have been incredibly popular lately, so hop on the fox bandwagon with this adorable Fox Earflap Beanie. This charming knitted earflap hat pattern for children is perfect for chilly days, dress-up, make-believe, and all of their other little adventures.
Happy Puppy Dog Hat Knitting Pattern – This charming knit hat pattern features a simple stockinette stitch base and two simple, floppy ear appliques. Perfect for playtime, dress-up, or just a brisk day at the park, the Happy Puppy Dog Hat Knitting Pattern is a pattern you'll love being able to tell your kids you made.
Cute Polar Bear Knit Hat – Perfect for the animal lover in everyone, this hat is cute yet functional. Don't let it fool you – the pattern looks challenging, but is a simple project for beginning knitters.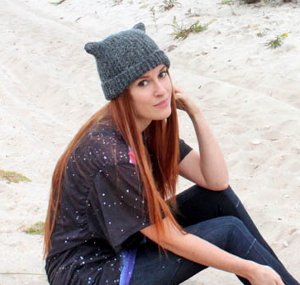 Hoos So Cute Hat – This easy knit hat pattern features feather tassels on the top and sides, two big eyes, and a stitched beak detail. We love this pattern for an easy Halloween costume or for an everyday cozy accessory.
Just Ducky Hat – This adorable little white knit hat pattern is adorned with a simple beak and bit of looped yarn on top.
Little Critter Baby Hat – Keep your little critters ears warm with this adorable knit baby hat pattern. The Little Critter Baby Hat is a cute, quirky hat you'll love seeing on your baby as much as you'll love knitting it.
Quick Kitty Hat – Who doesn't like looking like a cat from time to time? This easy knit hat pattern is a more sophisticated take on the cutesy animal hat.
Which animal inspired knit hat pattern is your favorite?
Latest posts by AllFreeKnitting
(see all)