Have you ever heard of the saying "In like a lion, out like a lamb"? This typically speaks for the month of March meaning the beginning of the month is cold and brutal, but by the end of the month it's much more pleasant and almost spring-like. We just witnessed this nice weather this past weekend, but now the phrase "April showers" comes to mind. Are we going to start seeing rainy, drab weather or will the flowers start blooming a bit early this year? Either way, if we're set to get April showers, that should mean one thing: spring cleaning!
I never get so excited as I do each spring to go through all my belongings, get rid of items and make room for new items. Spring cleaning is the best way to get organized with all my crochet supplies. It can either mean going through your yarn and rediscovering the fun yarns you thought you lost or crocheting baskets and containers to keep your supplies altogether. We have fun spring cleaning crochet patterns to help you get through the April shower blues.
Organizational Patterns: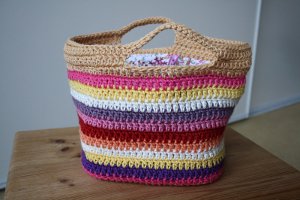 All-Purpose Striped Basket – This is one of my favorite organizational patterns because you can use it for so many different purposes. Store your yarn in this basket, tote your work in progress projects with you, bring it to the beach or go grocery shopping.
Crochet Scrap Basket – After finding all your scraps of yarn you can work up this scrap basket to hold it all. You can also use it to hold small items like your house keys, spare change or coupons.
Crocheted Toy Basket – Having kids or grandkids can get crazy and very messy. This toy box is the perfect organizational tool you need to store all the toys in one place. Put your mind at ease with a clean home before it gets messy all over again.
Easy Crochet Hook Case – If you're using a little plastic baggie to store your hooks (like I do), then maybe it's time to upgrade with a hook case. This is a simple crochet pattern that holds four hooks; perfect for travel purposes.
Spring Cleaning Scrap Projects:
Crochet Granny Scrapghan – Make this beautiful crocheted afghan with all the scraps of yarn you can come up with. The more crochet colors you can find, the better. This masterpiece will truly be fabulous with bright, bold colors.
Scrap Happy Scarf – Instead of planning out which rows you'll change color on, it'll be a mystery. Put all your scraps of yarn in a pile and when you run out of one color you can switch to the next. Once your scraps run out you can buy even more yarn.
15 Minute Headband – If you have a few minutes to spare, along with some leftover yarn, then you have a crochet pattern that needs to be worked up. You can whip up a ton of these crocheted headbands in a short period of time.
Have small pieces of yarn you're not sure what to do with? Learn how to organize bits of yarn with clothespins!
What's your favorite thing about spring cleaning?
Latest posts by AllFreeCrochet
(see all)