It somehow seems appropriate to bring up the Sweater Curse at this time of year.  Not only because Halloween is fast approaching, but because sweater weather is bearing down on us with a vengeance.  The Sweater Curse is a well-known part of the knitting culture.  The general narrative of the myth follows a simple, general path:  A knitter has a boyfriend that she is rather fond of, so she decided to knit him a sweater.  Shortly before or after the completion of the sweater, the relationship is terminated.
Sounds rather scary, right?  Don't worry too much, even though this phenomenon is called a "curse," most people don't actually think of it in supernatural terms; there are some really logical, good reasons why the Sweater Curse might visit an unfortunate knitter.   One of the most popular theories is that the highly emotional value of a knitted sweater (it's a lot of time, money, and effort) signals the perhaps more serious intentions of the knitter to the boyfriend,* resulting in the boyfriend breaking off the relationship.  There are also stories of ungrateful sweater recipients, most of whom are promptly dumped by the knitter as a result.  Another theory is that a relationship simply might come to a natural end before the sweater is completed.
Whatever the reasons behind the curse, there's a decent proportion of the knitting community who believes that it's something to take into consideration before knitting for a boyfriend.  If you're thinking of knitting for a significant other any time soon, you might want to try some of these other, non-sweater patterns.   Starting small and building up to a sweater may be a good way to test the waters of your relationship.
*Since the majority of knitters are female, I'm going to assume that my hypothetical Sweater Cursed couple consists of a female knitter and a male boyfriend.
5 Patterns That Won't Invoke the Sweater Curse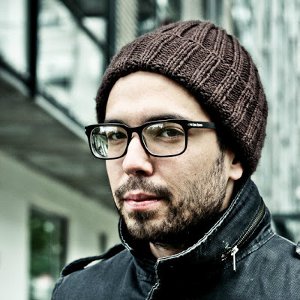 Midnight Magic Fingerless Gloves – You can send your boyfriend to the store for his sweaters, but gloves are another matter.  Quick and simple, these mitts feature a simple cable detail that's decorative without being feminine.  This pattern is a perfect first-time knit gift.
Basic Boyfriend Ribbed Hat – Hats are another great way to introduce your man friend to your knitting ways.  You can whip together this knit hat fairly quickly, so it's a great gift for the holidays.
Black Bear Infinity Scarf – A simple scarf can go a long way.  This infinity scarf will keep your boyfriend warm on a chilly night.
Combo Cable Scarf – For something a little more elaborate, this cabled scarf makes a great gift for your boyfriend.
Tyson Slouch Beanie – Another simple project, this slouchy hat will knit up quickly and keep your boyfriend's ears warm.  There's nothing not to like about this stylish, simple pattern.
Do you believe in the Sweater Curse?
Speaking of holiday knitting, DON'T MISS your chance to enter our Yarn Medley Giveaway with Lion Brand!  You'll get a chance to win a variety of yarn that will make your holiday knitting a snap.  The contest ends this Thursday October 31, 2013, at 11:59:59 P.M.  You could win a prize valued at $50, so enter today for your chance to win!
Latest posts by AllFreeKnitting
(see all)