Everyone knows the pleasures inherent in cuddling up in a warm blanket–a feeling only enhanced when that blanket is a hand knit afghan.  I know that one of my favorite blankets to use on a chilly night is one that I knitted myself.  Afghans have such strong associations with snuggling up that it is easy to forget they can serve another function: home decor.  Draping an afghan over the back of your couch is an easy way to unify the look and feel of a room.  The functional side of afghans only adds to their quality as a decorative element.   These afghan patterns will charm you with their rustic aesthetic; you'll be able to impress everyone who stops by your house with one of these attractive afghans.
Knitting an afghan can be a quite relaxing activity.  Pick the right pattern, one with a nice bulky yarn, for example, and you'll be part way through the project before you know it.  Even half-finished afghans can add a certain ambiance to a room, especially if you keep your blanket stored in a handy basket next to your couch.  These afghans will add a special touch to your home, no matter where you are in the knitting process.
 Artisan Afghans
Funnel Cake Afghan – You won't be able to resist this chunky, cuddly throw.  Perfect for any household, this pattern will delight knitters of all abilities.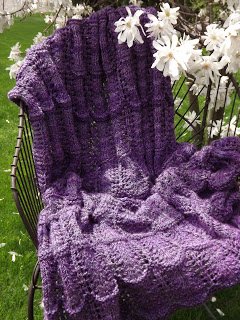 Rainbow Stashbuster Afghan – Use up that extra sock yarn with this colorful knitting recipe.  You won't want to stop adding to this fun pattern once you start digging through your stash.  You can really revive some long lost yarns with this delightful pattern.
Stone Washed Blanket – Knit up in blocky stripes, this easy afghan pattern really captures the essence of a rustic look.  You can find all sorts of uses for this versatile blanket.
Traditional Cable Afghan – Cable lovers will adore this afghan pattern.  For a clean, classic look, this afghan pattern is a must-make.
Cathedral Lace Afghan – If you're looking for something a little more lacy, this is the pattern for you.  Pick a rich colored yarn for a room-enhancing accent.
Country Cottage Blanket – Cuddle up with this plush afghan.  You will love creating this simple afghan for the entire family to share and enjoy.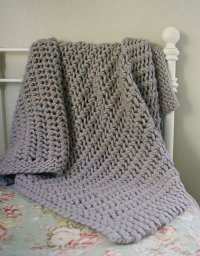 Bear Claw Throw – Make a real statement with this vintage knitting pattern.  You can rest assured that this pattern will look fresh and modern for years to come.
Queen Anne's Lacy Afghan – You'll feel like a queen when you wrap yourself up in this gorgeous lace afghan.
Granny Square Afghan – Get a funky traditional look with this fun pattern.  You can capture the look of crocheted granny squares with this enjoyable knitting pattern.
Slip Stitch Sampler Afghan – Perfect for a variety of uses, this afghan combines several different stitches to create an impressive overall look.  Beginners will love this pattern, since it will allow them to try out several different techniques.
Lacy Chunky Throw – You won't believe how quickly this afghan will come together.  This pattern is a great resource for those looking for last minute gifts.
How do you decorate with knitting?
Latest posts by AllFreeKnitting
(see all)