One of the best things about having a baby around is getting to take part in many firsts— from first steps and first words to first birthdays and first holidays. There is just so much to be celebrated. Why not make baby's big moments extra special by incorporating some of your knitting skills? Knitting for babies are always fun. When paired with the excitement of knitting for the holidays, you've got yourself quite the formidable duo.
This year, go the extra mile for your little one's first Christmas and knit a few keepsakes. From homemade Christmas ornaments and knit stockings patterns to adorable Santa hats and elf suits, there is something here for anyone looking to decorate for the holidays with their own two needles. Sure, they might not be able to recall much from this special day, but the pictures and video will show him or her just how much time was spent making this the best one yet.
And who knows? Some of these knits may even become a Christmas staple in your household. Take this for example. When I was in kindergarten, I'd made a nutcracker out of a Pringles can and fully expected my mother to put it out for all to see that year. It may not have been my finest moment in craft history, yet it still comes out of hiding every year at Christmas. The same goes for the million and one ornaments I had made throughout the years. These personal tributes to Christmas have lived on long past their intended date and so will your Christmas knits. Just wait. Years down the line, you'll be pulling out your homemade Christmas ornaments, and you'll look back on this moment.
So, cast on a couple of these amazing holiday knitting patterns to create a beautiful memory that will last a lifetime. Happy Knitting!
Santa Baby from Head to Toe – Knit Hat Patterns & More
Are you harboring one of Santa's little elves in your home? Dress your little one to the nines with these holiday knitting patterns. From the proper wear for all adorable elves to a Santa hat perfect for baby's head, there is sure to be something here you can knit for your little one's first Christmas.
Baby's First Homemade Christmas Ornaments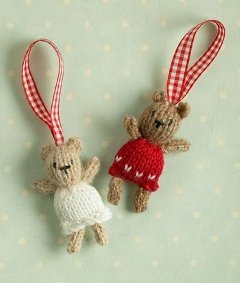 Give the tree a little something special this year. Knit up a fun little ornament with baby in mind. Ranging from adorable bears to snowmen, these homemade Christmas ornaments bring a little something more personal to your usual holiday decorations. Add colors and other personal indications to make it your own, and name it for your your little bundle of joy. As the years go on, these little keepsakes are sure to become a tradition.
Baby's First Knit Stocking Patterns
Why stick to the traditional stockings you buy at the store? Kick up the holiday season by knitting the stockings yourself. Sure, some of them may take a while to finish, but the memories they bring will definitely last a lifetime. Stitch the name of your little one into the cuff or incorporate it into the pattern. As they grow, you'll never forget the first stitches you cast on for their keepsake stocking. Who knows? You may even start a new tradition.
Other Fun Holiday Knitting Patterns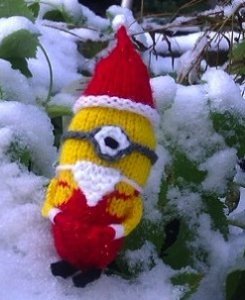 These cute little knick knacks will bring an element of fun to your home this Christmas season. Give them to your darling child as the perfect stocking stuffer, or use them as fun home decorations to set the scene.
What do you look forward to the most during the holidays?
Latest posts by AllFreeKnitting
(see all)