When I was little, I loved looking at the birthstone displays at stores. I remember each month's stone glittering fabulously out of necklaces or rings or earrings, and I was dazzled. I would rack my brain for people I knew with a birthday in each month and feel majorly proud when I succeeded in covering them all. My birthstone color (Aquamarine Blue for March) was always the prettiest (in my humble opinion). I always hoped that someone, somewhere would buy something aquamarine for me.
Eventually, my dad noticed my (not so) subtle hints. For my seventh birthday, I received a lovely heart necklace with an aquamarine gem in the center. I loved it.
My birthstone color is still one of my favorite colors to choose for clothes, home décor, and jewelry. Seriously, as I write this, I am wearing an aquamarine-colored shirt. And I didn't even plan it!
From my example, we know that kids love to admire their birthstones and dream about gifts in that special color. We also know that, often, the colors a child loves when they are little become their favorites later on. A sparkly birthstone necklace or ring might work well as a birthday gift for an older child, but what do we do for babies? A brand new little one wouldn't understand or appreciate a birthstone necklace. A ring certainly wouldn't work for their teeny, tiny fingers. Can we, as avid crocheters, come up with a solution?
Enter: Crochet Baby Blanket Patterns.
What do babies love more than being snuggly warm with a fuzzy blanket against their soft baby skin? And what do we love more than giving the gift of snuggles through cuddly baby blankets? A crochet baby blanket in the color of the baby's birthstone would be a unique baby gift to display baby's birthstone in something they'll love.
Below are baby blanket patterns that match each month's birthstone color. Find the month of the next expected little one in your life, and get started!
Of course, you could also mix and match the patterns. If you really like the design of one, make it up in all of the birthstone colors!
If you want more baby blanket patterns, check out some more quick and easy patterns!
Receive even more great patterns to your inbox by subscribing to the Stitch and Unwind newsletter!
January: Garnet
A beautiful, deep red for the start of the year! Such gorgeous things can be made with this color. The crochet baby blanket below has a great base design, and an adorable applique penguin is perfect for a winter baby.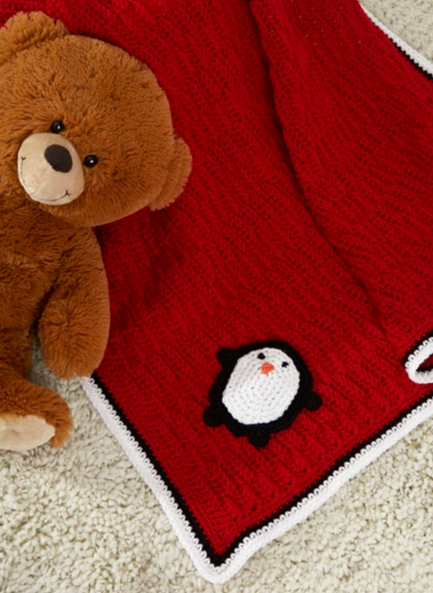 February: Amethyst
This lacy pattern is a lovely and light blanket that baby will love to stick their fingers through. This pattern also only uses one skein of yarn, which makes it fast to make and easy on your wallet.
March: Aquamarine
The classic baby blue, which is great for all March babies. This baby blanket pattern has a great texture that is soft to the touch, and the color is soft on the eyes.
April: Diamond
This basic pattern is made adorable with its scalloped edge, and a silvery gray makes this pattern shine like diamonds.
May: Emerald
This granny square afghan pattern uses a variety of soft greens to make a light blanket for baby. The square is easy to make and ends up looking intricately beautiful.
June: Pearl
Pearly, pearly white. This blanket is like a cloud that comes down to envelop baby in its soft sweetness. Plus, only one skein is needed to make this baby blanket pattern.
July: Ruby
This pattern features lines of puffy stitches that resemble stones lined up in a jewelry case, and the ruby red is exciting and bright. A delicate, scalloped edge completes this summer baby pattern.
August: Peridot
This pattern is made up of individual squares, and its zigzag edges are unique, almost looking like the edges of a gem, just pulled out of the ground.
September: Sapphire
This pattern is truly regal, with bold diamonds making their way across the pattern.
October: Opal
Opal can range in color enormously, from dark, almost black to white and milky, but it is known for different sparkling colors in different lights. This Medley of Stitches pattern not only uses many different crochet stitches, but also many colors, making this blanket as close to opal as you will ever get. And as an added bonus, it is a great stashbusting pattern!
November: Topaz
This gorgeous pattern is knit with three strands of yarn, making it bulky and warm, perfect for a November baby. And if yellow yarn replaced the pink, it would even more closely resemble the shades of topaz!
December: Turquoise
I couldn't decide between these two patterns—they're so different but both so beautiful! Either make a lacy baby blanket with a ruffled edge, or make an easy oversized granny square with beautiful stripes.
Thanks for reading! I hope you found some great birthstone patterns to add to your list!
Check out more crochet baby blanket patterns at AllFreeCrochetAfghanPatterns.com!
Latest posts by AllFreeCrochetAfghanPatterns
(see all)