According to fashion gurus, cobalt is the hot new color for fall. Personally, I've loved this color from the very beginning because there's so much to love about  this bold shade of blue. Cobalt looks good on practically everyone. It compliments most skin tones and goes well with red, blonde, or brunette hair colors. Even if you think you can't pull it off, trust me, you can – especially if it's in an easy knitting pattern.
This fun, flattering color is popping up everywhere this season. Allison Williams from the HBO series Girls was spotted at the Emmys just last week sporting a beautiful cobalt blue gown. The dress was a little plain in my opinion, but the color was phenomenal. Her eyes popped and her skin was glowing (in a good, non-ghostly way).
This gorgeous blue color inspired me to take a look through AllFreeKnitting.com  for our own stockpile of simple knitting patterns that feature cobalt. Turns out we have tons of cozy, warm, beautiful blue knits for autumn. If you're not ready to dive head first into the color, try adding a pop of the color into your outfit in the form of fun knit accessories or cozy knit sock patterns.
This fall, give your knitting a style update and join in with the cobalt craze. Try any of these beautiful knitting patterns below to sport this trendy shade of blue.
Both the One Week Sweater and Sapphire Skies Minisweater are great options for incorporating cobalt into your wardrobe. These cozy knit sweaters will keep you looking up to date and trendy. Not to mention you'll be warm and toasty all autumn long.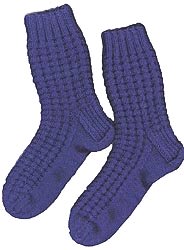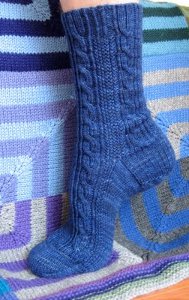 Don't forget about your toes! Now your feet can look stylish too with these comfortable cobalt sock patterns. I love the Blueberry Waffle Socks and the Ocean Breeze Cable Knit Socks for a cozy weekend pair.
Hats and headbands are my favorite way to add a pop of color to whatever you're wearing. The Love Nubs Beanie and Winter Morning Braided Head Wrap are great options for keeping your ears warm while looking looking fashionable at the same time.
Don't forget about scarves! In my opinion, a fun scarf is the easiest way to show off your personality and spice up a boring outfit. These cobalt beauties are a surefire way to turn heads and keep your neck and shoulders warm all through fall. My three favorites are the Cobalt Ruffled Scarf, Blue Petal Ascot, and the Atlantic Blue Garter Stitch Scarf.
So there you have it. Nine fabulous ways to give your knitting a style makeover with the hot color for fall. If you're hesitant to join in with the cobalt craze, start small! It doesn't take much to knit up a pair of gorgeous blue mittens or a dainty cobalt headband. Have a trendy autumn, knitters!
Are you a fan of cobalt?
Latest posts by AllFreeKnitting
(see all)