With spring right around the corner, I've got light and flowing knits in soft-colored neutrals on my mind. Although my own personal fashion preferences have changed
over the years (I tend to get tired of certain looks), the bohemian style has always been a constant. Drapey fabrics offer tons of room for creativity and layering options. The laid back chic look is perfect for casual week days as well as dressier weekends. With variable spring weather on the horizon, light and airy layers sound like the perfect remedy. What better way to go boho chic than with a few easy knitting projects? After all, bohemian style is all about being inspired by our natural surroundings. If you're anything like me, that means a room full of yarn.
Don't think you can pull off the boho look? Start with something small, like a knit accessory or a knit headband pattern. There are tons of stylish ways to work this trend into your wardrobe without drowning yourself in it. So, without further ado, here are some of my favorite bohemian chic easy knitting projects from AllFreeKnitting.
Bohemian Style: Easy Knitting Projects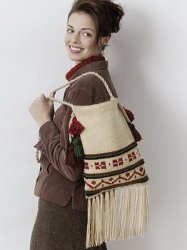 Caron Andean Bag – I will admit that I sometimes go a little overboard on the tribal trend, but this knit bag pattern is the perfect way to work a little boho into your outfit without overwhelming it. Subtle geometric shapes and some boho fringe make a fun statement.
Eva Vest – This gorgeous cream-colored vest is a boho stlye staple. Layer over a light maxi dress or skirt for a laid back and vibe.
Rustic Open Weave Shawl – The perfect knit shawl pattern for beginners, the Rustic Open Weave Shawl is a great way to add a unique piece to your bohemian wardrobe.
Gallatin Scarf – One of my personal (as well as AFK readers') favorites, the Gallatin Scarf is the quintessential boho chic scarf. This light and lacy oatmeal-colored beauty is the perfect finishing touch to any outfit.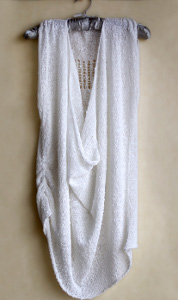 Romancing the Shawl – A gorgeous color palette and the chevron stitch collide in this gorgeous pattern. Wear it as a shawl or bundle it up as a scarf, this beautiful piece is full of burnt oranges and muted blues that will pump up the volume on a basic tee.
Southwestern Motif Cardigan – I love the beautiful, bright colors in this knit cardigan pattern. Although the fair isle design will take a little patience, you won't regret this bohemian beauty of a cardigan when it's finished.
Casual Knit Top – A boho chic staple, this light and flowing top is perfect for laid back spring fashion.
Gypsy Queen Headband – Simple and sweet, this braided knit headband is great for days when your hair needs a little extra attention.
Summer Whisper Wrap – This gorgeous gossamer shawl pattern is a basic you'll love being able to say you made.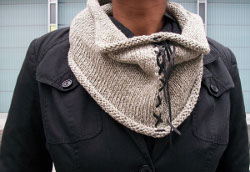 Handmade Hair Ribbons – Go boho with these hippie-chic hair ribbons.
Gun Smoke Cowl -This unique front-tie cowl pattern is great for the first few chilly weeks of spring.
Which boho pattern is your favorite?
Latest posts by AllFreeKnitting
(see all)