With Christmas only a week, I am revving up to visit all of the family members I've been missing all year. There are quite a few things that remind me of spending Christmas at my family home, and the candy cane is one of them. After all, there was nothing more satisfying than nabbing those sweet treats from the tree… and, later, blaming one of my siblings when my mother finally notice they were all missing. Though those days of sneaking the beloved Christmas decorations are long gone, there's still something about seeing candy canes everywhere that reminds me that Christmas is near. Here at AllFreeKnitting, we've got a few sweet knits modeled after those common holiday treats. From knit hat patterns for both baby and yourself to holiday hostess gifts, you're sure to find something you can add into your holiday plans. So, get ready to sink your needles into one of these candy cane-inspired knits. If you keep your eyes on the prize, I guarantee they'll be done by the time people start taking over your home for the holidays. Happy Holiday Knitting!
Candy Cane Striped Purse – Get into the holiday spirit with this adorable knitted pouch. The best thing about this holiday knitting pattern is that it can be used more ways that one. Need a last-minute stocking stuffer? Cast on this quick knit, and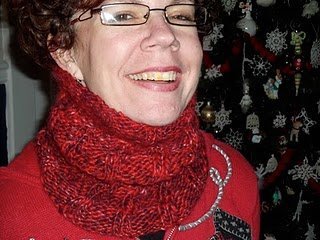 it'll be ready in time for the big day. You can also knit one up for yourself to hold all of your knitting supplies. After all, it's always nice to have all of your precious knitting supplies together in one place.
Peppermint Hot CoCowl – This lovely knit cowl pattern combines two popular treats of the season— peppermints and hot chocolate. Knit with bulky weight yarn, this is sure to be one knit that is off your needles almost as quickly as you cast on.
Candy Cane Christmas Socks – Well, you've already got the "ugly" Christmas sweater and the Santa hat, why not complete your holiday outfit with a pair of socks? These are the socks you won't be ashamed to show off. What makes the Candy Cane Christmas socks even better is that they also make the perfect stocking stuffer for everyone in the house. After all, can you ever really have enough pair of socks?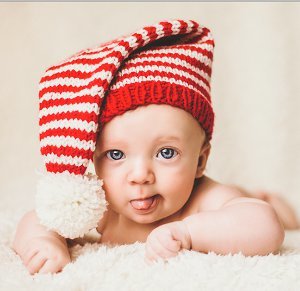 I don't think so!
Peppermint Patty Hat – This knit hat pattern features a classic cable stitch design along the side to give it a bit of an edge over other knitted hats. Knit using bulky yarn, this is the one winter hat you need to get started on right away. Debut it at your holiday festivities. Everyone will love it!
Tiny Candy Cane Stocking Cap – Cast on this easy breezy sweet knit for your little sweetie. This precious cap is perfect for baby's first Christmas. Can you say "Christmas card"? Imagine just how cute they'll be this year featuring your own little candy cane.
Peppermint Drink Coaster – Do you need a surefire way to be named the hostess with the mostest this Christmas? Knit your drink coasters this year to resemble a peppermint. This easy knitting pattern won't take you long at all. If you're feeling extra generous, let your guests take home their own personal peppermint drink coaster at the end of the night as a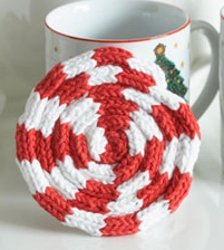 lasting memento of the fun times had.
Candy Cane Sweater – Want to get baby in on the holiday festivities? Try the Candy Cane Sweater on for size. This mini knit is absolutely adorable, featuring red accent stripes and red buttons at the top. The knit sweater pattern comes with instructions to create a sweater for sizes twelve months to twenty-four months. Since the design also doesn't overtly scream "Christmas," you can dress baby in this cozy sweater all winter long.
Candy Cane Cozy – As a kid (okay, I do it now as well), I used to hang candy canes on the tree right along with the ornaments. Put a spin on an old tradition by knitting up a couple of cozies for your candy canes. With a bell at the bottom and a cute little button on top, this quick and easy stash buster just might become a new holiday favorite. Who knows? Maybe it will discourage your children from stealing all of the candy canes this year.
Bonus Yarn Giveaway!
Christmas just came early! We are giving away two hanks of Reclaimed Cotton Ribbon to one lucky winner. Each 100g hank contains about 32 feet of unique cotton ribbon just waiting for your next big project! The deadline to enter is December 31, 2014 at 11:59:59 PM Eastern Time.
Have you finished all of your holiday knitting yet?
Latest posts by AllFreeKnitting
(see all)