Every year the AllFreeCrochet and FaveCrafts teams attend the annual Craft and Hobby Association Trade Show (or CHA). This year, our team packed up and headed to Phoenix, AZ to see what would be trending in 2017 – and boy, are we excited for the year to come!
The AllFreeCrochet team handled all the yarn trends, and we narrowed it down to our top 5. If you're interested in some general crafting trends, be sure to check out a fantastic general trends post by our lovely friends at FaveCrafts Blog.
Yarn Trends for 2017
Back to Basics
2017 will definitely be a year where we let the color do the talking. There was a huge focus on bold, solid colors and a basic yarn weight. Lion Brand (below) shows you how it's done with their new Basics display, but this trend could be seen just about everywhere on the show floor.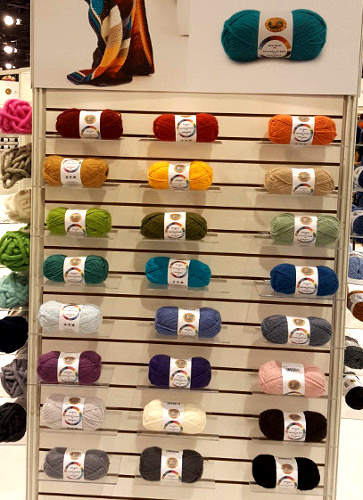 Back to Basics Patterns:
---
Gradients
Color gradients were everywhere. Variegated yarn is always popular, but this year there was more of a focus on subtle color shifts instead of wild leaps from hue to hue. Premier Yarns was the best example of this trend with their stunning DIY gradient kits (left) and their take on a sweet gradient yarn cake, pictured at right.
Gradient Patterns:
---
All in One and One for All
It can be a lot of work to get started on a project – from choosing the type and colors of yarn to making sure you buy enough skeins for the whole project. Luckily, project kits and all-in-one project skeins have become popular. Last year was the year of the Scarfie, and this year is all about theShawl in a Ball (left), where one skein of yarn is enough to make a stunning shawl in various colorways. The Hoooked booth also had a great display of the cutest little amigurumi kits you've ever seen (right), so you can crochet your own little friend in no time.
Project Kit/Skein Projects:
---
100% Recycled and Eco-Friendly
It's hip to use recycled materials and be environmentally conscious, and there's no better (and bigger) example of this trend than Hooked's Zpaghetti T-Shirt yarn. Made from 100% recycled clothing and shirts, their yarn comes in worsted weight skeins and super bulky ones. Plus, check out some of their available colors (below)!
Eco-Friendly Patterns:
---
Looms
Finally, looms are making a resurgence. Whether you're after a sock loom to make your own socks without fussing with circular or double-pointed needles or you want to create a beautiful tapestry or wall hanging, there's something out there that can help. Check out the images below from Authentic Knitting Board's Sock Loom (left) and the Loop de Loom Weaving Loom from Ann Williams Group (right).
Loom-Made Projects:
What trend are you most excited for in 2017?
Latest posts by AllFreeCrochet
(see all)