So the vote is still out on which type of motif you all prefer, but that's okay! I've updated one of our collections to include crochet motif patterns no matter what the shape. Check out 21 Free Crochet Motif Patterns to see what all the fuss is about!
Some crocheters say that grannies are easier, but hexagons are more fun. Do you feel the same way? I know it can be a pain to join all of your motifs together, but luckily there are plenty of ways to connect your motifs that may make your life easier. For now, just check out these great crochet motif patterns! I'll give you a sneak peek of the collection, but you'll have to see the rest of the patterns here!
Free Hexagon Crochet Motif Patterns
A crochet hexagon pattern can seem intimidating at first, but don't be afraid of these cute crochet motifs. These hexagon crochet patterns are full of life and flowery designs which make them fun to crochet.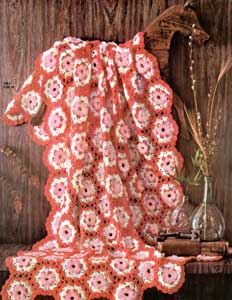 Loop Stitch Motif Afghan – Make this fun and bright Loop Stitch Motif Afghan and beautify your home. It's one of those free quick crochet afghan patterns that is as fun to make as it is to use. I love the vintage style of this afghan. It's uniform and the color scheme is nice, but again, you can always change it up. I could see this making a nice bedspread or throw for the summer. Imagine some pretty blue hues or summery yellows. The possibilities are endless!
Stained Glass Motif – The colors used in this Stained Glass Motif afghan are reminiscent of a classic stained glass window. Add an instant splash of color to any room of your house with this beautiful crocheted afghan. It is perfect for any season of the year! Especially summer – picture this afghan with bright neon colors! It would be a teenager's dream come true. I've always loved how this afghan looks. It's like I've just walked into a cathedral in London and I'm seeing the sun pour through the gold glass windows…*sigh.* Bring the cathedral charm into your home with this royal pattern.
Crochet Motif Patterns for Granny Square Afghans
Ah, the always classic granny square patterns. Now, if you're not a fan of the crochet granny square, you might change your mind when you see these awesome crochet motif patterns.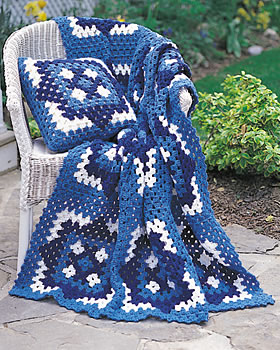 Blue Motif Blanket – This large granny square Blue Motif Blanket is mesmerizing. Coordinating shades of blue make the loosely crocheted afghan impressive and beautiful. Afghan patterns like this are great for a rainy afternoon. I love that this granny square pattern isn't the typical boring granny square. It almost looks like a quilt pattern and it was probably modeled after one. The matching pillow is a nice way to coordinate and entire bedroom too. I can picture this afghan being a wonderful gift set for a new couple or someone moving away to college.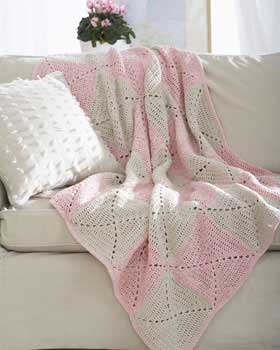 Pretty Rose Twists Afghan – Girly girls will love this adorable crocheted pattern. Drape a Pretty Rose Twists Afghan over a couch and transform your space! This afghan uses rose and white motifs to create a beautiful look. This afghan is simple and so effective. There's something to be said for simple crochet patterns – we all need them every once in a while and I love how this afghan turns out. The motif creates a nice and geometric design with diamonds and squares. It's just lovely, don't you think?
Personally, I think I like all crochet motifs. They allow us to crochet with flexibility and style. I love that you can change up the color schemes easily, change the size of the afghan, and truly make the pattern your own.
What's your favorite crochet motif?
Latest posts by AllFreeCrochetAfghanPatterns
(see all)