Are you super excited for the highly anticipated Man of Steel movie coming out this weekend? Can you believe the very first Superman movie came out in 1978 and we've seen multiple others since then? I bet that little tyke of yours is begging for you to take him to see it, and I don't blame him. If you are planning on seeing the movie, why not have some fun while seeing it? After all, if you're a parent, we already know you're a super hero who wears many masks every day. Now is your chance to help save the world with these awesome super hero crochet patterns! That's right; I dare you to go see the movie while dressed in any one of these crochet super hero patterns. Although not all of these patterns are wearables, you can still have fun while watching the movie. Heck, you can just play around afterwards, but don't tell anyone your super secret! Let's fly around the sky, climb the high buildings and save the world!
Super Powers For Super Heroes: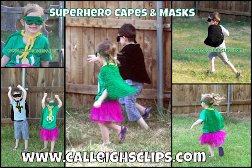 Super Hero Mask and Cape – Any little boy or girl would love to run around with their arms in the air as if they're flying to save the world. This is the perfect crochet pattern to have around on those summer days when the kids are home from school.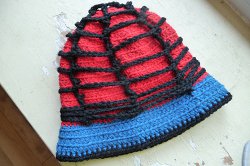 Spiderman Hero Hat – The kids will love playing dress up in this spidey hat; they can also sport it as part of a Halloween costume. If the girls don't like the red and blue colors, you can easily alter them with pink and purple.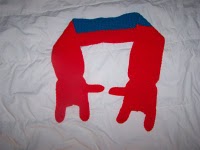 Spidey Senses Scarf – Being a fan of super heroes has never been cooler! This scarf will match perfectly with the Spiderman hat listed above. Wearing the scarf and hat combo will surely make you want to climb walls and shoot your web to catch the bad guys (or your naughty kids).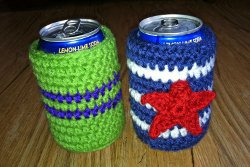 Captain America Cozy – Calling all super heroes! If you don't have the power to light things on fire or keep things cool, then let these cozies do the trick for you. Who needs a light saver in their hands when they have these cool cozies?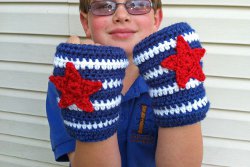 Captain America Gloves – Even though you're already your child's super hero, you'll be even cooler when you work up a pair of these gloves. They'll want to save the world right away, after they give you a big hug, first.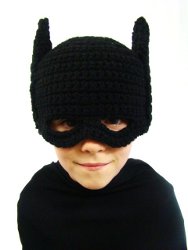 Kids' Batman Hat – Are you ready to protect Gotham City? Shine your Batman light in the sky and lurk around in this Batman hat until you find the villain. Your kids will have so much fun being the super heroes they've always wanted to be.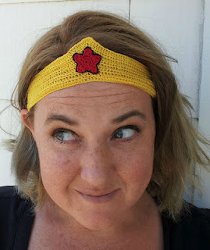 Wonder Woman Headband – Let's not forget all the ladies out there, too! Gain all the super powers you need while wearing this Wonder Woman Headband. This can be worn by kids or adults, for playtime or workout time.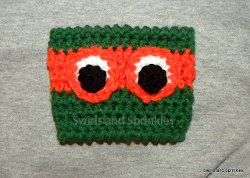 Turtle Cup Cozy – I definitely watched Teenage Mutant Ninja Turtles when I was a little girl, and I would have loved to have one of these cozies to drink my juice out of. Change the crochet colors of the mask for any one of the turtles.
Which super hero is your favorite?
Latest posts by AllFreeCrochet
(see all)