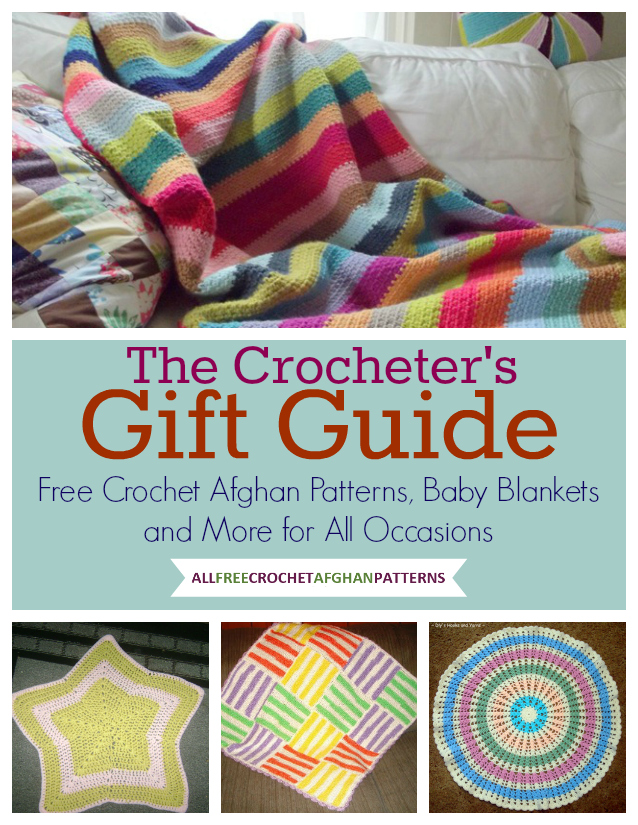 Okay, so November is here and I can already tell you're panicking. If you're anything like me, you have a running list of crochet gift ideas in your head, a pile of yarn, and a clock that seems to eat free time by the hour. Sound familiar? I think crocheting gifts for the holidays is a wonderful idea but it certainly is overwhelming. That's why I put together The Crocheter's Gift Guide: Free Crochet Afghan Patterns, Baby Blankets, and More for All Occasions so you'll never have to scramble to find a pattern to crochet. Crocheting may be fun, but the best part is seeing that excited smile as someone opens up your gift and realizes the time and effort you put into making something just for them. Crochet gifts for Christmas, holidays, and birthdays year round with these 10 great patterns. Some crochet gifts are harder to make for everyone on your list. That's why crochet afghans are your best bet— they're versatile, easy to customize, and pretty basic to crochet. Does your husband like to tailgate? Make him the Game Day Pillowghan. New baby on the way? Make a Boucle Baby Blanket, Hat, and Booties Set for the new mom. Grandma needs a new afghan? Make the delicate and lacy Pink Moscato Double Shell that is everyone's favorite. This crochet gift guide will help you crochet for both boys and girls, aunts and uncles, friends and family and so much more.
Ready to get crocheting? Check out our free eBook today!
Speaking of gift giving, how do you decide what to crochet for friends and family? From experience, here are some tips to keep in mind to make sure that your time is well spent and the the receiver of the gift is happy:
If the gift isn't a surprise, ask the person what their favorite color is so you know what they like.
Ask about their hobbies or their favorite sports teams and see if you can incorporate it into a crochet project.
Consider the longevity of the project. Is the person going to outgrow the crocheted piece in a year? Try to pick a project that will "grow" with the person.
Think of the color scheme of the person's home, room, living room etc.
If you're crocheting for someone for the first time, start with small projects No need to spend hours on a project that they may not appreciate.
Make useful things. People will likely appreciate things they can use on a daily basis.
Make one-size-fits-all gifts so that you can be sure your gift can be worn with ease.
If you are making something fitted, always check your gauge.
Is the person you're crocheting for also crafty? If so, this person will appreciate the time and effort that you put into the project so you can crochet something more intricate for them.
Be aware of the fiber content and potential allergies to natural fibers.
Do you have any other tips for crocheting gifts?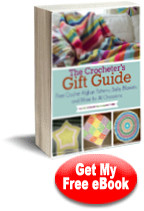 Don't forget to download your free ebook here!
With your free copy of The Crocheter's Gift Guide: Free Crochet Afghan Patterns, Baby Blankets, and More for All Occasions, you can also subscribe to our Laying It All Out newsletter to become part of a fabulous and friendly crochet community. In subscribing to the newsletter you will receive:
•    Four weekly emails with free crochet patterns, tips, collection pages, videos and more.
•    New FREE crochet afghan patterns made available to you throughout the year.
•    Access to our free crochet afghan pattern library full of 1000's more free crochet patterns.
•    The opportunity to share ideas and help others in the crochet community.
Latest posts by AllFreeCrochetAfghanPatterns
(see all)