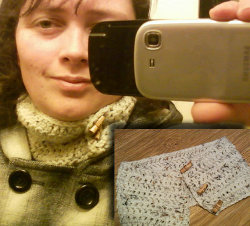 We all know how difficult it is to juggle work and family responsibilities, let alone find quiet time to work on that half-finished afghan! But for Crystal (Cris) Porter from Crochet With Cris it's just another day in the life.
She's a full-time working mother who is also a student seeking to obtain her Masters in Public Health. Self-described as a as a "quirky task-a-holic" Cris has certainly perfected the art of multi-tasking. When she does have some down time she enjoys a variety of crafts. Crochet, painting, and loom knitting are her favorites but she also enjoys embroidery and bobbin lace. Cris loves using her crafting skills to help others and participates each year in the Special Olympics Scarf Project. She hopes one day, to share her wealth of crochet and crafting
Cris has been crafting almost her whole life. Her mother taught her how to crochet when she was five years old after the infamous "needle incident." As Cris' mother remembers it, Cris' kindegarten teacher called home one day asking if she was "aware Crystal had brought a needle to school." It turns out that Cris had brought her embroidery to school to work on during recess! After that, Cris' mother introduced her to a less "threatening" craft that she could bring to school. Crochet. And as they say, the rest is history. Cris hopes to one day share her crafting knowledge with a larger audience by publishing her own eBook.
Cris believes that crafting is more than just a hobby, it's life enriching. Every time one of her projects makes someone smile, Cris remembers why she loves crafting so much!
Read more about Crystal on her designer profile and make sure to check out all the other crochet afghan patterns on AllFreeCrochetAfghanPatterns.
Manly Sports Lapghan – It's hard to find crochet patterns for men that aren't too frilly or feminine, so this basic afghan is perfect for the man in your life. Personalize this lapghan by using the colors of his favorite sports team. It's a great birthday present or Father's Day gift for that hard to buy for guy.
Other crochet patterns from Crystal:
Pointed Granny Scarf
Corner of My Heart Gift Pouch
Plarn 'n Yarn Pot Scrubber
How do you find time in your day to crochet or knit?
Latest posts by AllFreeCrochetAfghanPatterns
(see all)