Do you believe in the healing power of crystals? Are you a grower of geodes? Whether or not you have a stockpile of colorful rocks next to your bed, there's no denying that these organic forms are sprouting up everywhere. You can't scroll through a single Pinterest page without running into a geode-inspired craft project or a tutorial on how to decorate your home with crystalized shapes
and geometric forms. Everything, even easy knitting patterns are inspired by these natural elements. Current fashion is full of triangles, hexagons, and other prism-like shapes. Even the editors at AllFreeKnitting aren't immune to the charms of these pretty prisms! (My latest impulse buy was a beautiful knit vest with a gorgeous geometric pattern.) Jewelry is veering more toward organic forms and natural materials. Some designers have even taken to slapping a rough-hewn rock on a metal band and calling it jewelry.  With New Year's resolutions still in full swing, it seems like everyone is promoting healthy ways to purify your life. Are crystals and geodes the answer? Is it possible to knit good health into a sweater?
Whether or not you're convinced by the cleansing elements of crystals, there's no doubt that these organic forms are beautiful in their own right. If anything, the colors of these gorgeous, gem –like forms are inspiration enough for a few easy knitting patterns.
(Collage Credit: The Knot, Swell Mayde, Etsy, Harpers Bazaar, DIY Decorating Ideas, Etsy)
Patterns Inspired by Crystals & Geodes
Crystal Prism Sweater – This pretty purple, pink, and blue-hued sweater pattern has successfully captured the beauty of a crystal.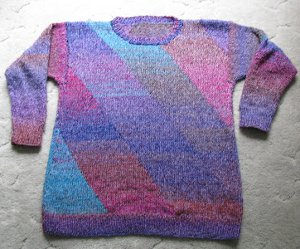 Ice Crystal Hat – This quick knit is a beautiful ice blue color perfect for dashing away the last of the winter chills.
Prism Shawl – Brightly colored and fringed with a beautiful lace border, the Prism Shawl truly is a gem of a shawl.
Jewel Tone Earflap Hat – A treasure trove of color, the Jewel Tone Earflap Hat is a fun way to work some color into an outfit.
Peacock Jewel Scarf – This bright blue lacy scarf is the perfect spring accessory.
Amethyst Fingerless Mitts – These pretty purple mitts are perfect for driving and texting – but not at the same time!
Petite Pyramid Necklace – This tiny geometric gem is a unique piece you'll love saying you made.
Hexagon Cowl – The quintessential cowl for the geometry lover.
Prism Infinity Scarf – Soft, gemstone colors and a pretty stitch design combine to form the Prism Infinity Scarf.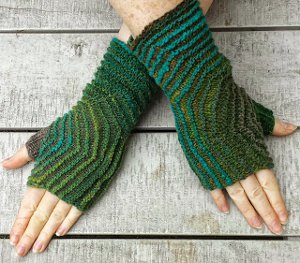 Mindless Mystic Cowl – Crystalized colors and geode-inspired hues are the stars of this simple yet stylish cowl.
Unicorn Horn Scarf – A short row beauty, this gemstone colored scarf is fun to knit as well as wear.
Hexagon Fingerless Mitts – The perfect pairing for the Hexagon Cowl.
Light Spectrum Afghan – This gorgeous knit blanket is a surefire way to lighten and brighen any room in your house.
Birthstone Cowl – A cozy cowl pattern in a warm, ameber-colored yarn.
Jewel Tone Beanie – This crystalized cutie is perfect for a little girl.
Are you a fan of the geode trend?
Latest posts by AllFreeKnitting
(see all)