Print This Post
Knit in Public Week: Day 1
Meet the Editors of AllFreeKnitting!
Knitters, unite!
Every year, knitters around the world celebrate Knit in Public Day. Established in 2005 by Danielle Landes, this fun-filled day takes place on the second Saturday of June. This year, June 14 marks not only Knit in Public Day, but the start of Knit in Public Week! This yarn-tastic holiday was started as a way for fellow knitters to band together and enjoy not only the craft, but each other's company.
As one of the editors of AllFreeKnitting, I didn't want to miss out on any of the festivities. So, we decided to throw a week-long celebration on Stitch and Unwind!
From amazing daily giveaways to knitting tips and tutorials to interviews with designers, we're doing our best to make Knit in Public Week a memorable celebration of our favorite craft. Every day, we'll have new knitting tips, tricks, tutorials, and patterns for you. We'll also be giving away daily prizes as well as one grand prize at the end of the week.
The full schedule of prizes, giveaways, tips, and tutorials can be found on this page here.
So, without further ado, let's get to know each other!
I'm Julie (on the right), knitting newbie and ever-curious student of my co-editor, Audrey. Learning how to knit has been a long process, but having access to a great community of knitters at work has made it so much more enjoyable.
My name is Audrey (on the left). My grandma taught me how to knit when I was eight, and I've been fascinated with fiber ever since. I always have a project or two on the needles, ready to go whenever I need to relax or wind down. I'm taking my knitting game to the next level by learning to spin my own yarn.
Today's Giveaway:
Today we're giving away a Stitch Nation Tote Bundle! This incredible prize includes one Stitch Nation Tote (for all your needles, yarns, and more), one Stitch Nation USB containing helpful knitting tips, tricks, and patterns, 2 skeins of Washable Ewe, 1 package of Knit Clips, and the popular pattern book, Knits at Home.
Answer the question at the bottom of the post for your chance to win this amazing prize! The winner will be notified in tomorrow's blog post.
Official Rules for Daily Contest
There is a maximum of one entry per person. The entry will be based upon a comment left on this blog post. Duplicate comments will be deleted and are not tallied.

Winner will be selected at random from the comments on this blog post below.

Winner will be announced here on the blog tomorrow as well as contacted by the email address provided.

You have until June 14, 2014 at 11:59p EST to leave your comment on this post. Comments posted after that will not be counted.

Contest open to anyone 18+ in US and/or Canada.
Grand Prize Giveaway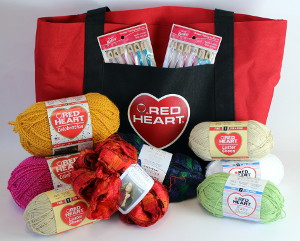 Be sure to enter for your chance to win the Knit in Public Week Grand Prize gifted by Red Heart!
This fabulous prize is enough to make any knitter drool.  The winner will receive a Red Heart tote bag packed with 8 skeins of Red Heart yarn, two packs of knitting needles, and various knitting accessories.
The deadline to enter is June 22, 2014 at 11:59:59 PM Eastern Time. Enter here for your chance to win!
What's your best tip for on-the-go knitting?
AllFreeKnitting is dedicated to the best free knitting patterns, tutorials, tips and articles on knitting. From easy knitted afghan patterns to complex lace knitting patterns, we find and deliver the best free knitting patterns from all over the web. Plus, we feature free product reviews and giveaways of all the latest and greatest products including yarn, knitting books, totes, and more. AllFreeKnitting is a wonderful online resource for knitters of all skill levels.
Latest posts by AllFreeKnitting (see all)
Print This Post