As you may have heard me say before, I just love a designer handbag. Unfortunately, they are just too expensive and I can't fathom spending that much money on something I might only use a few times. I say a few times because I have different bags and purses per season. The lighter, pale colors are for the spring and summer months while the darker patterned colors are for fall and winter. My all-time favorite purse is a giraffe print with a mustard colored strap, but as I think of how pricy it was I think "now why didn't I just crochet something similar?" That's right, I'm putting my foot down; I'm ditching the designer handbags and I'm learning how to make crochet bags. DIY bags are all the rage because you can choose your own crochet colors, pick your patterns and decide how long or short of a strap you want. Don't want a strap at all? No problem, that's what clutches are for. Luckily, we've just come out with a brand new eBook How to Make Crochet Bags: 11 Fantastic DIY Bags.
In this new eBook we've included some of what we think are the best ever bags. From purses, to diy totes and diy clutches we've gone gaga over these crochet designs. Keep in mind you can choose your favorite colors and alter the patterns to fit your stylish fashion, but what you're going to find in this eBook is going to wow you.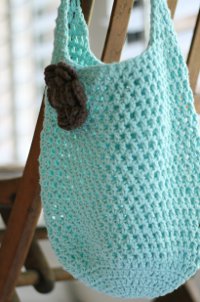 My favorite diy bag in the book is the Two Hour Tote. Not only is it an easy crochet pattern that can be worked up in two hours, but I am head over heels about the light blue color. This is a cute design that can be embellished with a flower, a bow or a button. This particular pattern was adorned with a brown flower to complement the light blue, and I think it looks fabulous.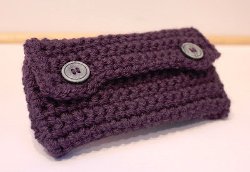 I also really enjoy the Crochet Clutch and its deep dark color. This is a great diy bag that can be used for a nicer occasion instead of an everyday bag. I can picture this clutch worked up in a fun sequin yarn to really fancy it up.
If you picture yourself as a stylish fashionista who always has a good looking bag hanging from your arm then download How to Make Crochet Bags: 11 Fantastic DIY Bags. I promise you won't be disappointed, and you may even decide to ditch the designer handbag to work up your own bag.
How many bags and purses do you own? And did you make any of them yourself?
Latest posts by AllFreeCrochet
(see all)