Know an incoming college freshman? Give her a knitted gift she'll cherish for years. She'll love displaying any one of these easy knitting patterns in her new dorm room.
Creative Knit Blanket Patterns
One of the best ways to make a dorm room feel like home is with a knit blanket pattern. Knit blanket patterns are perfect for DIY dorm room decor because they act as a practical sleeping essential as well as a burst of color, saving much needed space for other appliances and accessories. Handmade knit blanket patterns make a thoughtful gift and are a surefire way to cheer up any homesick student. Before you start on your knit blanket pattern, get some input from the future freshman. What colors does she like? Does she plan on having a certain theme to her room? Is she coordinating with her roommate? Funky colors and bold patterns are a fun way to decorate, but also consider soothing pastels and light neutrals for a calming effect.

(from left to right: Stone Washed Blanket, Granny Square Afghan, Vintage Pineapple Afghan)

Cozy Knit Pillow Patterns + Rugs
College dorm rooms vary from school to school, but a vast majority are less than cozy upon arrival. A great way to make a dorm room feel more comfortable is by covering the floor with a plush knit pouf or brightly colored knit rug pattern. Knit pillow patterns and rugs are a great way to decorate as well as make the dorm room more accommodating for larger groups of people.  The Garter Stitch Pouf is a great pattern for novice knitters. This one stitch pattern works up quickly and offers a great seating alternative to the floor.

(from left to right: Garter Stitch Pouf, Fluffy Striped Knitted Pillows, Scrap Bath Mat)
Fluffy Striped Knitted Pillows
Knitted Gifts + Accessories
Usually, it's the little things that remind us most of home. Make her first year away from home a little easier with any one of these adorable knitted gifts or accessories. From darling knit coffee cozies to cute iPhone holders, there's an easy stashbuster pattern in here for every doting knitter. The Knit Laptop Sweater is perfect for keeping her electronics safe while toting notebooks and textbooks to class. The miniature Tea Bag Envelopes and Cabled Pocket Cozy are great for late night study sessions at the library. These sweet little knits will remind her of home whenever she uses them.

(from left to right: Tea Bag Envelopes, Knit Laptop Sweater Pattern, Mustache Cozy)
Cute and Colorful iPhone Cozies
Awesome Ampersand Wall Decoration
Organizing Knit Essentials

Organization is key in a tiny dorm room – especially when you're sharing the space with one or more roommates. These helpful knits will keep her desk uncluttered, her closets in line, and her books all in order.

(from left to right: Knitted Jam Jars, Lace Earring Frame, Bamboozelle)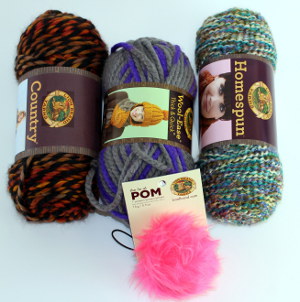 Bonus!
Lion Brand New Colors Giveaway
We are giving away one skein of Wool-Ease Thick & Quick, one skein of Country, one skein of Homespun, and one pom-pom to one lucky winner.  The deadline to enter is May 28, 2014 at 11:59:59 PM Eastern Time.
Enter here for your chance to win!
Do you have an incoming freshman to knit for?
Latest posts by AllFreeKnitting
(see all)