With summer right around the corner, swim suits and jean shorts cannot be eluded for much longer. Don't get me wrong. I love summer. It's my favorite season of the entire year. However, the first couple weeks of sunshine and warmth are always a little anxiety-inducing. Showing off my translucent, winter-worn skin to the world is not exactly my idea of "summer fun."
This year, however, I'm prepared. I've devised a plan to achieve that coveted soft and supple glow — all with the help of my knitting needles. This weekend I'm rewarding myself with a DIY spa day complete with exfoliation, lathering, and everything else that comes with a basket full of lotions and potions. The best part about this little spa day is that everything I'm using to prepare my skin for sunshine was knit using a pattern from AllFreeKnitting.
DIY Spa Day: Pamper Yourself With 10 Cleansing Knits
BonBon – Pamper yourself with this classic bath accessory. This quick knit makes an excellent Mother's Day or birthday present for a spa-loving friend. Whip up this cute little loofah with a washable fiber or quick-drying material like nylon.
Exfoliating Bath Mitt – Get to all those hard to reach areas while washing with the Exfoliating Bath Mitt. This practical DIY spa treatment knit is the perfect accessory for those looking for a nice, squeaky clean.
Soap Sweater – Easy to knit and even easier to use, the Soap Sweater is a fun little accessory to jazz up any bar of soap in your shower. Simply place a bar of your favorite soap into the sweater and exfoliate away dirt, grime, and oil for a refreshing and renewing clean.
Wrap Around Bathrobe – After a nice long soak in the tub, there's nothing more pleasant than slipping into a pillow-soft robe. This incredibly plush Wrap Around Bathrobe is a spa queen's must-knit.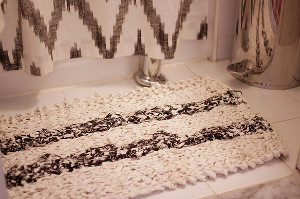 Lace Hand Towel – Add a little elegance to your bathroom routine with these darling Lace Hand Towels. Lined with a sweet doily-like hem, these pretty little knits make for great presentation in a guest bathroom.
Aunt May Washcloth – Softness and texture collide in the Aunt May Washcloth to form a washcloth with the perfect amount of graininess necessary for scrubbing out impurities.
Back Scrubber – You'll wonder how you got by before making this DIY spa treatment essential. A quick and easy knit, the Back Scrubber is a fun way to mix up your normal knitting routine as well as get rid of yarn scraps.
Washcloth Quartet – A bathroom necessity as well as a lovely housewarming gift, the Washcloth Quartet makes it easy to go green while getting clean.
Scrap Bath Mat – Recycle ratty towels, old t-shirts, and fabric scraps from that dress you can't seem to part with. The Scrap Bath Mat is a simple yet stylish accessory that will add personality and flare to your bathroom.
Chevron Scrubby Mitts – Scrub away the day with these adorable bath mitts. The Chevron Scrubby Mitts also work well as dish washing mitts.
When was the last time you had a DIY spa day at home?
Latest posts by AllFreeKnitting
(see all)