Have you ever felted crochet? It's really a quite simple technique that transforms practically any crochet design into something totally different. These Whimsical Felted Flowers (left) show the crocheted flowers before and after the felting process. As you can see, felted crochet creates a dense fabric that is more durable than the original crocheted item.
You can felt practically any item, but felting works especially well for crocheted bags and warm winter patterns because the finished result is a thick, dense fabric that's great for the chilly winter months.
If you've never felted before, check out our guide of How to Felt Crochet here. You'll find a variety of free crochet felt patterns to choose from including crochet bag patterns, home decor items, felted crochet flowers, and more. For a special sneak peek, find our favorite felted crochet patterns below:
Free Felted Crochet Patterns: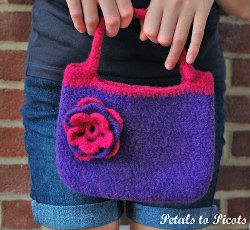 Peacock Tea Cozy
Pretty Little Felted Purse
Striped Felted Purse
Felted Mittens
Mini iPad Case
Felted Flowers
Whimsical Felted Flowers
Cute as Button Felted Flower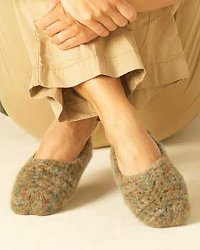 Fabulous Felted Slippers
Sunflower Felted Purse
If you liked these free felted crochet patterns, then be sure to check out the full collection of 24 Free Crochet Felt Patterns right here.
Have you ever felted crochet before? Leave a comment and tell us about it!
Latest posts by AllFreeCrochet
(see all)