When my youngest cousin was born, I spent so much time working on everything from teeny tiny sweaters to the most adorable baby hats I could find. I had even tackled the project of creating an elaborate baby blanket. Somehow, I had managed to forget all about the booties. If there's one thing babies can never have enough of, it's definitely booties. There's no telling how many pairs you'll have to buy before your child is old enough to wear shoes that won't fall off every five seconds. If you've had children of your own or know someone with little ones, you know exactly what I'm talking about.
Babies start kicking and the booties start flying! I can't tell you how many times I've heard complaints about babies losing one (or both) of their booties without their parents even noticing until it's too late. Sometimes, they're lost never to be found again. Other times, one bootie is hiding out between the cushions on the sofa only to be found when the baby has, quite conveniently, grown out of them. Why not just save yourself the trouble and knit the booties yourself?
Knitting your baby's booties yourself comes with its own set of perks. You will not only get the satisfaction of watching your child grow in something you made, but baby booties also make the perfect keepsake. Once your baby outgrows his or her booties, hold on to them. Place them in a box filled with precious mementos throughout the years or display them more openly. Years from now, I can guarantee you'll be glad you did! After all, I still have my very first pair of shoes hanging from the rear view mirror in my car. So, why not get started today on the knit to last a lifetime?
Cozy Classic Baby Booties Patterns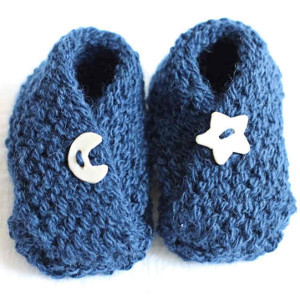 There's nothing like the classics. Check out these traditional knit baby booties patterns. These cozy knits are not only quick and easy to make, but they can also be used as the perfect way to get rid of that overflowing stash of yarn. Knit up one or two (or three!) for that little one in your life.
Seamless Baby Booties
No Button Baby Booties
Knit and Purl Baby Booties
Bundle of Joy Baby Booties
Bitty Baby Booties
Two Needle Blocks Baby Booties
Precious Printable Baby Booties Patterns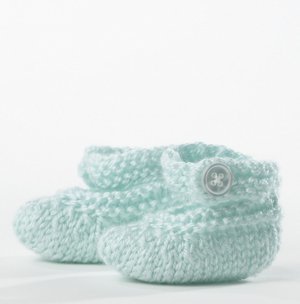 Even though baby booties are so easy to knit, not every pattern is exactly the same. It's always nice to have a hard copy of the pattern on hand for reference just in case. With these printable knit patterns, you'll have a pattern you can store and use again and again to welcome the arrival of all new babies in your family for years to come.
Cloud Puff Booties
Royal Baby Booties
Basic Baby Booties
Mint Button Booties
Candy Shoppe Baby Booties
Sweetheart Baby Booties
Fun and Fashionable Baby Booties Patterns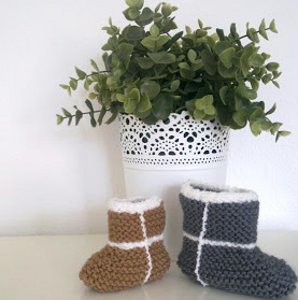 Knitting for baby doesn't have to be all work and no play. Get your little one ahead of the game with the easy knit booties that are just as special as they are. From knockoff uggs for baby to booties that look like tiny peppermints, each of these patterns is not only adorable but also unique in its own little way.
Tiny Striped Moccasins
Baby Mary Janes
Peppermint Baby Booties
Knockoff Baby Uggs
Santa's Little Helper Booties
Crocodilly Mocs for Newborns
Do you know a little cutie who could really use a pair of these beautiful booties?
Latest posts by AllFreeKnitting
(see all)