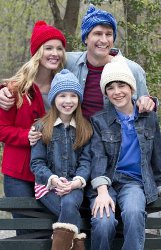 Earlier this week, TV fanatics all tuned into to the 66th Annual Emmy Awards Monday night on NBC. Hosted by Seth Meyers, the entertaining evening was full of big laughs, beautiful fashion, and as always, winners and losers. If you missed it, allow us to summarize: Breaking Bad and Modern Family basically dominated the award show.
If you're more of a movie buff, then perhaps you'll enjoy our collection of movie-inspired patterns, Inspired By Movies: 21 Crochet Hat Patterns and More. But, if you prefer prime-time television, check out these free crochet patterns below that were inspired by some of the most popular TV shows of today:
9 Emmy-Inspired Crochet Patterns
Breaking Bad:
Pink Crocheted Bear – This crocheted teddy bear looks just like the one from the TV show!
Breaking Bad Afghan – Just like the one in the Skylar and Walter's house!
Modern Family:
Family of Hats – I can just imagine the Phil bringing these to the family's winter vacation.
Everyone Can Snuggle Afghan – Perfect for a movie night at the Dunphy's!
Rainbow Pride Bracelet – Cam's favorite bracelet
American Horror Story:
Friendly Ghost Family – These crochet ghosts might be a little friendlier than those that visited the Harmon's
Cute Little Voodoo Doll – Voodoo was a popular theme of Season 3, Coven.
Unbelievably Easy Crochet Witch Hat – You may not be from Salem this Halloween, but you can pretend!
Mini Me Crochet Witch Hat – Don't forget to make a mini crochet witch hat for your daughter
What is your favorite TV show? Comment and let us know!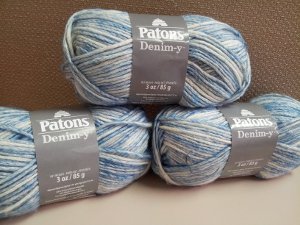 PLUS: Enter to win 3 skeins of the new Denim-y Yarn from Patons. Get the look of denim without the weight with this unique new yarn. Available in 14 different denim shades, this line of medium weight yarn is a ready-to-wear yarn that's perfect for all of your fall fashion needs. The deadline to enter is September 10th, 2014 at 11:59:59 p.m. Eastern Time. Enter here to win!
Latest posts by AllFreeCrochet
(see all)