Light, lacy, and full of color, a knit shawl is the quintessential knit for springtime weather. To celebrate the first day of March (and in the hopeful spirit of spring), we've rounded up some of our favorite knit shawl patterns on AllFreeKnitting. This lovely bunch is a dazzling array of intricate lace stitch work and flowing, draped silhouettes. These classically constructed knit shawl patterns are worthy of being passed down to your loved ones for years to come.  Have fun mixing and matching pastel-colored fibers or bright whites for a gorgeous seasonal accessory. The beauty of knit shawl patterns is their versatility in a number of situations. Knit any one of these patterns in a soft white and use it to wrap up baby up for a spring christening or keep a bride's shoulders modestly covered for a May wedding.
Knit shawl patterns are perfect for relaxing activities outdoors on a breezy day. Keep chills at bay while sprucing up the front walk or gardening in the back yard. There's nothing more lovely than the look of a flowing shawl on an after-dinner walk around the neighborhood or an early morning hike. These beautiful displays of lace make great layering pieces and are the essential knit accessory for variable spring weather.
 Essential Knit Shawl Patterns for Spring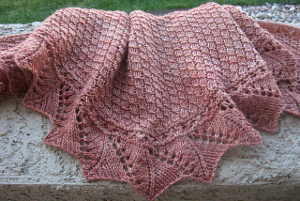 Dandelion Shawl – This sweet knit shawl pattern has all the nostalgia of the days we used to spend making blowing dandelions in the field.
Citrus Ruffles Shawlette (shown on right) – This fun circular knit shawl pattern is full of color and texture. The bright lime green gives this pattern a lot of punch, perfect for a fresh outfit enhancer.
One Shoulder Shawl –  This gorgeous lacy shawl gives off a flirty, off-center vibe.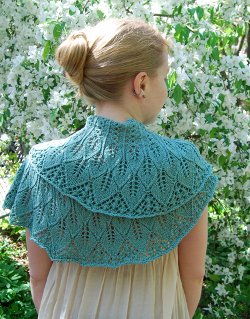 Endless Spring Wrap – You'll love wrapping yourself in this classic lace shawl all season long.
Crescent Shawl (shown on right) – The dusty pink color of this shawl is just one of the many reasons it's one of our favorites. This gorgeous reader favorite is full of timeless elements and beautiful stitch detailing.
Cute Knit Shawlette (shown on right) – This intricate knit shawl is sure to become the crown jewel of your spring wardrobe. Full of vintage charm and sweet details, the Cute Knit Shawlette is a lovely shawl you'll love knitting and wearing.
Lace Check Shawl Pattern – This sweet and simple shawl proves that less is more. A simple construction is subtly enhanced by a darling lace check design.
Silky Alpaca Lace Shawl – This periwinkle beauty makes a gorgeous addition to your lace knitting to-do list.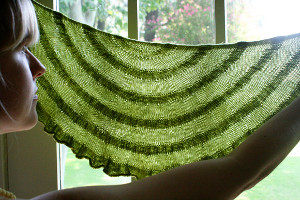 Emily's Lace Shawl – (featured image) – This whimsical circular knit shawl pattern is just another reason why we love springtime knitting.
Bonus!

Summer will be here before we know it.  Get a jump on your summer knitting with our free eBook Knitting Free Patters for Summer: 7 Sizzling Knit Tops, Knit Sweater Patterns & More.  This collection of free knitting patterns is the perfect staple for the knitter who doesn't know what to do with herself when the weather turns warm. 

Which of these lovely lace shawl is your favorite for spring?
Latest posts by AllFreeKnitting
(see all)