Every year, I fall in love with autumn all over again. Of course I'm always sad when summer comes to an end, but there's something about fall that captivates and enchants me year after year. Maybe it's the ever-present scent of a lingering bonfire, maybe it's the way the wind makes the trees sway, maybe it's the beautifully colored leaves. There's no denying the beauty of autumn, however, I think I prefer this season for a slightly different reason: knitwear.
I've always loved being able to bundle up and throw on layers of clothes. Give me a baggy knitted sweater pattern, a cozy knitted scarf, and a comfortable pair of jeans and I'm a happy camper. To me, autumn is not a sad time that signifies the end of summer. It's a welcome respite from the sweltering heat of August. It's a refreshing and gradual transition into the winter cold.
This autumn, fall in love all over again with this collection of pillow-soft knitted scarf pattern, gorgeously colored knit cardigans, and more.
Falling for Autumn: Knitted Scarf Patterns & More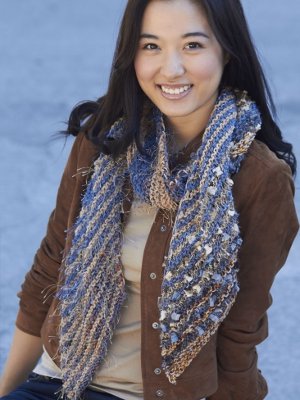 Boho Girl Scarf (pictured) – Flowing and textured, the Boho Girl Scarf is the ultimate free-spirited knitted scarf pattern. Great for layering on breezy days, this colorful, unique scarf is sure to turn heads.
Drape Front Knit Cardigan (pictured) – An elegant cascading front sets the tone for this effortlessly elegant knit cardigan pattern. Perfect for on-the-go glam, the Drape Front Knit Cardigan is sure to become an autumn wardrobe staple.
Autumn Artisan Scarf – This creative knitted scarf pattern looks a lot more complicated than it actually is. Well-suited for a novice knitter, the Autumn Artisan Scarf features a scalloped, undulating design fit for artistic style mavens, trendy fashionistas, and comfort-seekers alike.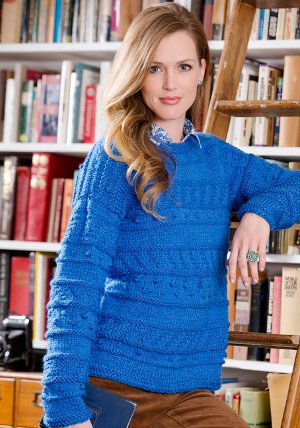 Sapphire Knit Pullover (pictured) – Dive into this ocean-blue knit sweater pattern. The Sapphire Knit Pullover is a modern classic, featuring alternating rows of garter stripes and fun knitted "bumps."
Lacy Ripple Scarf – Light, luscious, and utterly luxurious, the Lacy Ripple Scarf is a stylish way to stay warm throughout the entire season. The classic lace stitch work of this knitted scarf pattern is sure to add a feminine look to whatever you're wearing.
City Wrap – Knitting fashionistas are sure to love the simple, elegant look of the City Wrap. Designed as a charming accent piece, this pattern will flatter most body types. Go for the layered look this autumn with this stylish knit wrap pattern.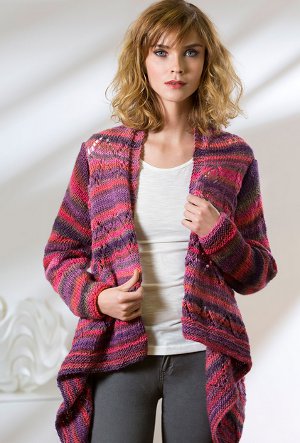 Bold Beginner Scarf – Summer may be over, but that doesn't mean the colors have to end. Keep things fresh with a burst of neon in the Bold Beginner Scarf. Knit entirely in garter stitch, this knitted scarf pattern makes a great project for fledgling knitters and skilled crafters alike.
Fishnet Shawl with Braids – Say hello to autumn in this fuss-free knit shawl pattern. The Fishnet Shawl with Braids is a fun and easy way to create a knit accessory that will span the season.
Ombre Cowl – The perfect accessory for a casual week day outing as well as a dressier evening event, the Ombre Cowl is sure to add a fashionable vibe to whatever you're wearing. Add style and comfort your autumn wardrobe with this basic knit cowl pattern.
What's your favorite thing to knit in autumn?
Latest posts by AllFreeKnitting
(see all)