While most people mourn the loss of summer, I'm always anxious to get to the next season— fall. For knitters, this marks the beginning of knitting season. It's time to get up and start working on all of those knitted gifts we've been promising for the longest time. That's not all fall is about, though. Now, the air is crisp and the leaves begin to put on a show for us, changing from an earthy green to a unique mixture of reds and oranges and, sometimes, purples. Fall also ushers in the return of seasonal items like pumpkins and apples that form some of our favorite treats. With pumpkin spice lattes and delicious caramel apples back within arm's reach once more, do you really need any more reason to fall in love with this beautiful season?
With every drastic weather change, I have a bit of a system. All of my summer shorts and tank tops go away for the year; and in their place are the hoodies, cardigans, and jeans I've been missing. That's not all, though. The knitted accessories are back again to keep us both stylish and warm. Hats and scarves are at the top of that list. As knitters, however, there's never any need to go out and by these fall favorites. We can learn how to knit hats and scarves and make them ourselves! Provided below is a list of my favorite fall scarves. Before it's too late, why not set aside a day to knit up your own scarf for the season? It won't take you long at all and the result is sure to be simply amazing.
How to Knit a Scarf for the Season
Take the time to usher in this beautiful season with one of these easy knitting projects. You just can't beat the classic knit scarf pattern. Many of us started off making these straight knitted wonders, so why not return to them as the weather outside shifts once more? These knit patterns are not only quick and easy to make, but they are produce quite the convertible knit. After all, the traditional scarf is the knitted accessory that can be worn a multitude of ways for a multitude of reasons. Toss one side over your shoulder for the vintage glamor look or let some of the material hang in the front. However you choose to style your knitted scarf, just be sure to make it your own.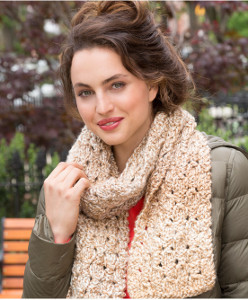 Peekaboo Lace Chain Link Scarf
Two Hours or Less Scarf
Dewdrop Scarf
Simple and Sweet Knit Kerchief
Jefferson Scarf
Autumn Wowza Scarf
Lime Lightening Linen Scarf
Definitely Diagonal Scarf
Cozy Knit Infinity Scarf and Knit Cowl Patterns
If you've been looking for more than just your traditional knit scarf, you've come to the right place. Infinity scarves and cowls are taking over, and they are the perfect project for the knitting fashionista. They add a certain pizazz to your outfits that regular scarves sometimes don't. Cowls are the scarves that aren't just for keeping you safe and warm from the harsh wind. They're also fashionable accessories. With most of them being knit in the round, they may seem unattainable to the knitter not quite ready to give up their straight needles. That, however, isn't entirely true. Many of these beautiful "circle scarves" can be knit on straight needles and joined together when you're finished. So, take an evening to knit up one of these easy knitted scarf patterns you're sure to love.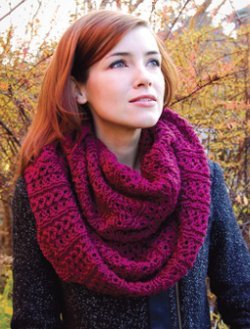 Ombre Cowl
Leftover Yarn Infinity Scarf
Falling Leaves Cowl
Stockholm Scarf
Bridger Cowl
Basic Knit Infinity Scarf
Harvest Bonfire Cowl
Homespun Circle Scarf
Wanderlust Cowl
Lavender Magic Scarf
Bonus!
What could be a better giveaway for a knitter than more yarn? We are giving away one skein of Fino Yarn in Dutchess Blue to one lucky winner. 
The deadline to enter is October 15, 2014 at 11:59:59 PM Eastern Time
. This Fino hank is absolutely regal! It's super soft and luxurious— this yarn is named Dutchess Blue for more than just its gorgeous color. You'll get the royal treatment when you knit with this upscale blend of fibers. Made of 70% baby alpaca and 30% silk, this yarn is 100% lavish.
What's your favorite way to wear a scarf? Are you more of a cowl person or is it traditional scarves all the way?
Latest posts by AllFreeKnitting
(see all)