January is always a time of extreme exercise schedules and crazy diet plans as people try to quickly shed their holiday "fluff." Even if you're not participating in the get-fit craze, it's impossible to ignore. Gym membership deals are blared from every radio station, diet pills are broadcast on every television channel, and work-out apparel is displayed on every billboard. The start of the New Year isn't supposed to be stressful, it's supposed to be an opportunity for change and growth. So, if you are hopping on the get-fit bandwagon, let AllFreeKnitting help you out!
Whether or not you're trying to lose a few pounds, the key to getting healthy is to have a positive attitude. The clothes that you wear and the way you feel wearing them makes a huge difference. Believe it or not, wearing fitted clothes makes you look slimmer than a loose-fitting top. This year, don't hide underneath baggy clothes, pull out your knitting needles and whip out some fitted, figure flattering knits!
(Pictured from the top left: Downton Abbey Cardigan, Black Smoke Cable Knit Vest, Cozy Colorblock Jacket, Windy City Cardigan, Sandia Jacket, Pronto Jacket)
Slimming Knit Sweater Patterns, Vests, and More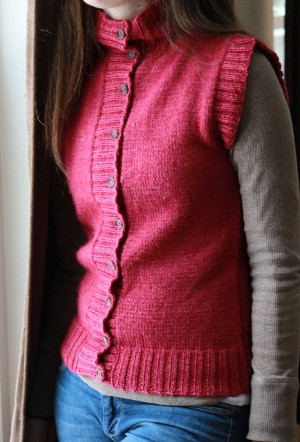 Winter Sweater Vest– This close-fitting sweater vest is perfect for layering, but is just as attractive on its own.
Fitted V-Neck Pullover – Show off a svelte waistline with this casual yet attractive v-neck pullover.
Sandia Jacket – The flattering deep neckline of this pretty buttoned jacket makes it the perfect piece for a polished look.
Nutmeg Raglan Sweater – An AllFreeKnitting favorite, the Nutmeg Raglan Sweater is both slimming and cozy.
Downton Abbey Cardigan – Inspired by one of TV's most popular shows, this pretty periwinkle cardigan is sure to receive many compliments.
Streamlined Striped Sweater – Simple, clean lines make this knit sweater a classic he'll keep coming back to year after year.
Merlot Ribbed Vest – Elegant and attractive, the Merlot Ribbed Vest is a flattering finishing touch for a plain shirt, dress, or skirt.
Dan Knit Sweater – This slimming men's knit sweater is perfect for casual weekend wear or a dressier occasion.
Pronto Jacket – Stylish, functional, and flattering. What more could you want in a knit jacket?
Cozy Colorblock Jacket – This fitted jacket is a great way to show off a great physique while staying warm.
Windy City Cardigan – Flattering bell sleeves and a fun button make this cardigan a keeper.
Bonus!
We are giving away one copy of Knit to Flatter to one lucky winner.  The deadline to enter is January 15, 2014 at 11:59:59 PM Eastern Time.
One of the most intimidating things about knitting a sweater is the fit, and the fact that you can't really know how your project is going to look on you until it is cast off and blocked.  Even though knitting a sweater can be a bit of a risk, there are things you can do to ensure that you end up with a fabulous sweater that fits you like a glove.  Amy Herzog's Knit to Flatter is a premier guide that will help you navigate the sometimes murky waters of sweater construction.
Do you have a favorite figure flattering knit?
Latest posts by AllFreeKnitting
(see all)