Special thanks to Mark Rougeux
You've discovered a mistake! You've purled when you should have knitted, dropped a stitch, or perhaps you forgot to increase or decrease. If this happens and you discover it in the next row, it's very easy to fix. You can just un-knit (tink) until you arrive at your mistake and then fix it! Easy.
Let's say, however, you made a mistake 10 rows back. Because it's not an easy fix, you decide that it is best to rip out your work until you are back at the row where you can fix things and continue knitting. No one ever needs to know you made a mistake! Sometimes that's the best way to solve issues. If you read my tutorial on how to insert a lifeline, that can be done at this time. Then you can rip with reckless abandon and you won't have to worry about dropping or twisting any stitches when it's time to pick them up.
If you decide to rip back without a lifeline, you will be faced with live stitches waiting to be picked up. This isn't as daunting a task as you might first think. You simply slide your needle back through the live loops and you are ready to go. Take care not to tug or pull on the stitches. Tip: I often use a much smaller needle to pick up stitches then transfer them to my working needle.
You do, however, have to make sure that your stitches are oriented correctly on the needle to ensure that they are not twisted when you begin to knit again.
Notice how the stitches are slanted before you begin your knitting. If the stitches slant toward the left, they are correctly oriented. If they are slanted to the right, the orientation is twisted. The best way to fix this is simply knit through the back of the loop of the right-slanting stitches. That untwists the stitches and you can move forward. In another of my blogs, you can see how to knit through the back loop.
As a refresher, this is an example of what knitting through the back loop looks like.
After I knitted the right-slanting stitches through the back loop and the left-slanting stitches regularly, the stitches are now uniformly oriented.
Note: If all of your stitches have been twisted, it might not be so easy to see the left-slanting vs. right-slanting stitches. Since you have been knitting the correctly oriented stitches all along, you will most certainly feel the difference when you try to insert the needle knit-wise if the stitch is twisted.
The correctly oriented stitch will be easy to enter knit-wise and it will actually have an "open" look to it.
As opposed to the twisted stitch, which is more difficult to slide your needle in knit-wise and it has a more "closed" look to it.
Practice this technique on a swatch before you run into it while knitting a project. No knitter likes to discover a twisted surprise after a project is finished.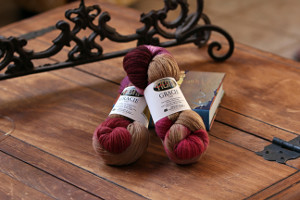 Bonus!
Fiesta Gracie Lace Yarn
Gifted by: Fiesta Yarns
We are giving away two skeins of Gracie Lace Yarn, a total value of $100, to one lucky winner.  The deadline to enter is June 11, 2014 at 11:59:59 PM Eastern Time.
Have you used this method before?
Latest posts by AllFreeKnitting
(see all)