Summer is finally here, which means that it is time to hit both the beach and the movie theater. Everyone knows that all the best movies come out in the summer; school is out, parents take more time off of work, and nannies are itching to get the kids out of the house during the day. Show off your favorite films (or your kid's favorites) with these awesome 23 Crochet Patterns for Movie Lovers that represent some of the best.
You'll find crochet scarf patterns straight out of The Hunger Games and Willy Wonka, crochet baby hats that look like Mike Wazowski and Rapunzel, and even a handful of crochet patterns inspired by two of the most popular movies of the year, Frozen and Maleficent. Sing along to the soundtracks as you break out those crochet hooks and get started on some of these popular crochet patterns for movie lovers.
Animated Crochet Baby Hats
Crochet Patterns Elsa and Anna Would Love
Other Movie-Inspired Free Crochet Patterns
Wickedly Vibrant Crochet Cowl

(Extremely Popular!)

If you love going to the movies, you probably also read up on some of the latest celebrity gossip and news. It's okay, you can admit it to us! In fact, you should be sure to check out our collection of celeb crochet patterns with Hot Off the Press: Your Krochet Kardashian Style. You will find creative crochet patterns inspired by all 6 women in the Kardashian/Jenner clan that keep up with the latest fashions and trends.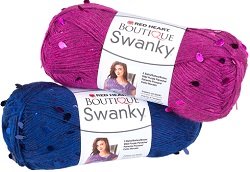 PLUS: Enter to win 5 skeins of Red Heart Boutique Swanky Yarn. Colors included in the giveaway include Tuxedo, Midnight Blue, Purple Panache, Sterling, and Chiffon. Swanky yarn is a classic worsted weight yarn from with a bit of sparkle. Each skein features oval-shaped sequins that have been dyed to match the color of the yarn. The deadline to enter is July 16th, 2014 at 11:59:59 pm Eastern Time. You can enter daily, but only one lucky winner will be chosen. Enter now for your chance to win!
What's the best movie you've seen lately?
Latest posts by AllFreeCrochet
(see all)