WOW!  Can you believe that we are already on WEEK 5 of our Spring Meadow Scarves?  The newest section of the pattern is now live, and Heidi of Hands Occupied has another wonderful video demonstration for you.  In case you are just joining us, I have posted the instructions on getting started and where to find all the steps you've missed so far down below.  You have missed only a few sections, and they go quickly, so you will be able to catch up in no time!  Don't forget that we have a great prize up for grabs to one lucky participant, so be sure to show us your progress.  We're also following along with everyone on Facebook, Twitter and Instagram if you use the hashtag #springmeadowKAL.
How to Participate
It's easy to take part in our Knit Along! There will be six different steps that will be posted on AllFreeKnitting. All you need to do is visit AllFreeKnitting's KAL page on the dates below to get the next step of instructions.
Week 1 May 15: Instructions for Section 1 and Transition 1
Week 2 May 22: Instructions for Section 2
Week 3 May 29: Instructions for Transition 2
Week 4 June 5: Instructions for Section 3 and Transition 3
Week 5 June 12: Instructions for Section 4 and Transition 4
Week 6 June 19: Instructions for Section 5
Week 7 June 26: Winner chosen
Plus, share your photos and get entered to win!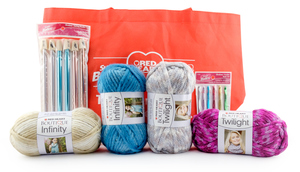 Red Heart Yarn has donated a fabulous prize with a retail value of $50 to be awarded to one lucky participant. Now is your chance to try different types of yarn! Find more details about what the prize includes below:
2 balls Red Heart Boutique Twilight
2 balls Red Heart Boutique Infinity
1 Susan Bates Knitting Needles Set
1 Susan Bates Crochet Hooks Set
1 Red Heart Tote Bag
In order to be entered to win, simply follow these instructions:
Post your project (works in progress AND finished project) right on AllFreeKnitting.
Open to anyone 18+ in the US or Canada.
Photos must be posted by June 25 2015, 11:59pm EST.
Latest posts by Stitch&Unwind
(see all)