Did you know that roses are actually in season during autumn? That's right, these beautiful, thorny flowers are blooming as you read this. To celebrate the budding season of these pretty petals, we've rounded up some of our favorite rose-themed patterns from AllFreeKnitting.com. There's a pattern for every knitter, with everything from lacy knit shawl patterns, to pretty felted bags. Learn how to knit a flower or just knit with a pretty rose-colored yarn. We hope you'll take time to stop and smell the roses….and knit something gorgeous, too.
Wearable Knitting Patterns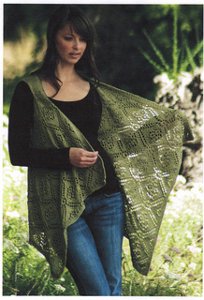 Rose Trellis Shawl Vest
One of the easiest ways to add an interesting texture to your outfit is with a fun layering piece, like the Rose Trellis Shawl Vest. This beautiful lacy knit vest pattern mimics the look of roses creeping up a garden trellis, and is stitched in a beautiful moss green color perfect for autumn.
Dusty Rose Cardi Shrug
The Dusty Rose Cardi Shrug is half cardigan and half shrug, making it a year-round wardrobe essential. This pretty shrug is knit in one piece, making it a quick, satisfying knit.
Baby Hoodie with Rosebuds
Baby knits are always adorable, but this Baby Hoodie with Rosebuds is especially cute. Have fun dressing your little one in this beautiful floral sweatshirt complete with rose appliques.
Knit Hat Patterns
Carolyn Rose Hat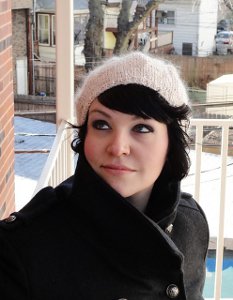 Not only is this hat a beautiful mix of blues, it's a warm and cozy knit you'll love having this fall. The Carolyn Rose Hat is knit with the rose stitch, so have fun making a cute hat while learning a knew knitting technique.
Blushing Rose Beret
The warm, tingling sensation you feel when you blush is similar to the feeling you'll have wearing this pretty knit beret. The Blushing Rose Beret hugs your head in all the right places and keeps your ears nice and warm.
Rose Vines Cabled Headband
This pretty headband is full of country charm and is a great way to keep your hair off your face. The Rose Vines Cabled Headband is knit with a gorgeous mix of mossy greens and dusty pink hues, making it a perfect autumn knit.
Stashbuster Knitting Patterns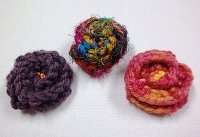 Peruvia Rose
Enjoy flowers year round with this pretty, quirky little knit flower pattern. The Peruvia Rose makes a great gift for a knitter from a knitter – or for anyone who enjoys floral crafts.
Rose Buttons + Round Buttons
Watch your knitting bloom as you add these cute little buttons to your projects. Rose Buttons + Round Buttons are a great way to add a special floral touch to all of your knitwear.
Briar Rose French Press Cozy
Protect your hands from scalding joe in style with the Briar Rose French Press Cozy. This pretty cozy pattern is a great way to impress house guests with your blossoming knitting skills.
Knit Scarf Patterns
Liza Rose Scarflet

This fun and flirty tie scarf is a cute way to add a retro feel to your outfit. The Liza Rose Scarflet is a pretty knit that will keep your neck nice and warm while drawing attention to a pretty neckline.
Charming Rosette Cowl
Wrap yourself up in the Charming Rosette Cowl. This knit scarf pattern is a great way to add a cozy texture to your outfit while staying warm in the process.
Knit Bag Patterns
Bucket of Roses Felted Bag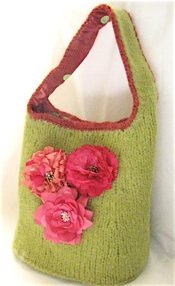 Throw this bag over your shoulder as you're leaving the house for a fresh, floral look full of color. The Bucket of Roses Felted Bag is a great way to instantly add a punch of springtime to your outfit.
Winter Rose Party Purse
This is the ultimate holiday party purse. The Winter Rose Party Purse is an elegant, yet fun knit bag covered in beautiful little white rosettes.
Rose Tote Bag
The Rose Tote Bag is a pretty way to incorporate a unique accessory into your outfit. This gorgeous tote is great for carrying all of your personal belongings wherever you go.
Which of these pretty rose patterns would you knit?
Latest posts by AllFreeKnitting
(see all)