I've always loved farmer's markets—so much so that I spent four years of weekends working for one! While I called it a "summer job," the autumn harvest season is when the markets really kick into gear. The corn is high, the pumpkin patches are filling with giant orange globes, and the apples (my favorite fruit!) are falling off the trees. All these fruits of the farmers' labor show up at the market, and every week I find myself torn between the many fruits and vegetables on offer. Such a delicious burden to bear.
Farmer's market regulars know that their weekly trip to the market is as much a social event as a shopping excursion. In addition to picking up new produce, fawning over people's puppies, and kibitzing with vendors and other market regulars, I like to use my market runs as an excuse to show off all the gorgeous projects I've learned how to knit. I've found that knitwear featuring the beauty of the season's bounty always garners tons of compliments, so below you'll find a wide selection of quick knitting projects patterned after the glory of the harvest.
Pick the Perfect Fall Fingerless Gloves Knitting Pattern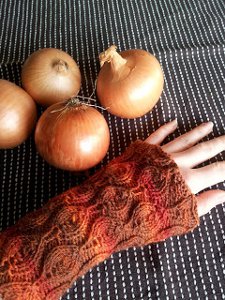 I was a latecomer to the fingerless gloves phenomenon, but midway through my first-ever fingerless gloves pattern, I'm now very much hooked. These stylish and functional accessories are a great solution to my problems with perpetually cold hands. This selection of harvest-themed patterns will fit right in at the farmer's market while leaving your fingers free to inspect the produce.
Autumn Harvest Fingerless Gloves – SO classic!
Wild Oats Fingerless Mitts
Golden Wheat Mitts
Spanish Onion Mitts (shown)
Pumpkin Fingerless Mitts
How To Knit a Scarf That Stands Out
As the weather cools and the leaves begin to fall, we all break out our warmer accessories. By the end of September, it seems everyone at the market is sporting a scarf. I always choose a neckwarmer I knit myself to stand out from the crowd. Whether you choose a knit scarf pattern, an infinity scarf pattern, or a cowl knitting pattern, you're sure to get compliments aplenty with these autumn-approved patterns.
Golden Wheat Scarf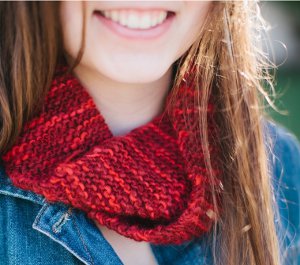 Candy Apple Cowl (shown)
Harvest Bonfire Cowl
Sunshine Scarf – For a happy day!
Fruit Basket Scarf
Garter Stitch Oatmeal Cowl
Easy Oatmeal Scarf
Happy Harvest Knit Hat Patterns (and a Headband)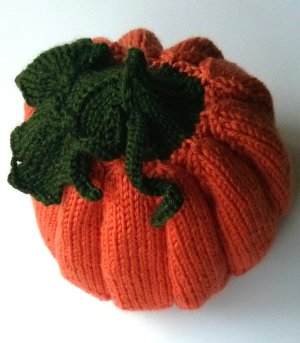 As a headband girl, I don't often wear hats myself, but I always admire the creative designs other people come up with. These ingenious produce-themed patterns are so perfect for the season that they might just inspire me to put aside my prejudices and join the hat-wearers of the world. Wearing one of these clever creations to the farmer's market would certainly have the other attendees asking me how to knit a hat!
Apple Hat
Pumpkinhead Slouchy Hat (shown)
Chestnut Rib Hat – AWWW!
Chestnut Heirloom Hat
Wine Harvest Headband
Sweet Seasonal Knitting Patterns for Your Little Pumpkin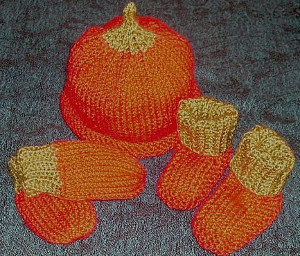 My mother has called me "Pumpkin" for as long as I can remember—longer, probably—and as a very literal child, I never understood why. These adorable pumpkin-themed baby knits answer that question while kitting your little one in stylishly seasonal warmth. As an added bonus, these quick and cute patterns also double as baby Halloween costume ideas.
Pumpkin Baby Set (shown)
Pumpkin Pixie Hat
Toddler's Knit Pumpkin Hat
Perfect Pumpkin Hat – For family photos
Free Bag Patterns for Your Farmer's Market Bounty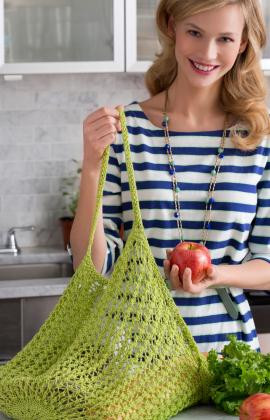 What would a roundup of farmer's market patterns be without a selection of free bag patterns in which to put your purchases? A hand-knit bag is an environmentally friendly and attractive way to transport your fruit and vegetable finds. If you find it hard to choose between these terrific totes, why not make two? That way, you can protect delicate produce like peaches and tomatoes by carrying it separately from sturdy root vegetables.
Mesh Knit Market Bag (shown)
Farmers Market Bag
Reusable Grocery Bag
Hexagonal Market Bag
Rainbow Market Bag
Green Grocery Bag – My favorite
What's your favorite farmer's market-worthy pattern?
Latest posts by AllFreeKnitting
(see all)