I don't watch the Academy Awards for the ceremony; I watch it for the fashion. It's a blast to see what styles are in and what's definitely out. It's like a fashion forecast for us little people. Thanks to The Great Gatsby, vintage is back in a big way, and the trend of the moment is fringe. Grab yourself a bit of that 1920s glamor with some vintage crochet afghan patterns. There's a reason Gatsby won the Oscar for Best Costume Design, and once you take a look at these classic projects, you'll understand why. Here are a few of my favorite crochet projects that call to mind the Golden Age of Hollywood.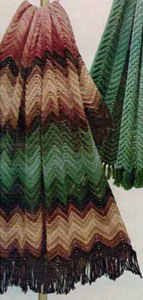 If Daisy's stunning wardrobe in Gatsby taught us anything, it's that chevron was as popular in the 20s as it is now. Show the world your inner flapper with the Crocheted Zig Zag Afghan. You can use variegated yarn or alternate colors of yarn to create a gradient within this Art Deco throw.
Or, you can boost your color confidence by using different shades of the same color, as is the case of the Amber Mirage Afghan. Either way, you'll end up looking fabulous.
Can't get enough of these sophisticated stripes? We've got a whole collection of striped crochet patterns that come in all sizes and styles.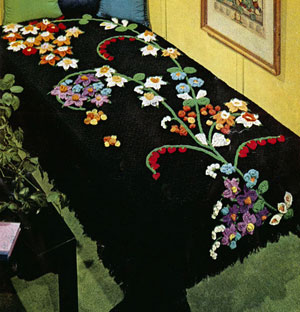 The 1920s brought on a renewed interest in Eastern culture, and Asian inspired looks are on the rise again. Peaceful floral motifs and delicate patterns are a few of the trademarks of Eastern art.
Bring some of this elegance into your home with the Vintage Fan Afghan or the Japanese Lily Afghan. They both feature tranquil shades of blue, intricate stitching, and fringe.
Floral patterns have been popular for ages, so if you want a vintage look, check out some of our springy flower crochet projects.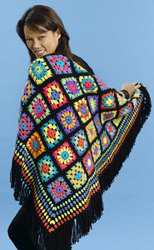 Architecture in the 20s was breathtakingly ornate, and nothing sets off gilded furnishings better than a pane of stained glass. The Bright Granny Squares Throw and the Stained Glass Window Afghan look like they belong in a church, but you can crochet yourself a rainbow that will look pretty and keep you warm. The generous fringe borders on these afghans add a playful touch to a pair of seriously spectacular blankets.
Which of these Golden Age trends would you like to try?
Latest posts by AllFreeCrochetAfghanPatterns
(see all)