Four times a year, yarn enthusiasts gather together to celebrate knitting, crochet, and all things fiber at the STITCHES trade show and marketplace. This past weekend, the editors of AllFreeCrochet and AllFreeKnitting were fortunate to attend STITCHES Midwest in Schaumberg, Illinois. From advanced technique classes to workshops on hand-dyeing yarn, STITCHES offers fiber enthusiasts a chance to gather together and celebrate their craft.
Besides classes, each STITCHES convention boasts an impressive marketplace filled with vendors from across the country displaying beautiful handspun yarns, knitting organizers, notions, and more. The trade show floor is a dazzling array of hand-dyed natural fibers, pillow-soft roving, artisanal knitwear, and unique crochet garments from big name companies and independent designers.
Before losing myself among the vendors' booths, I was lucky enough to take a class on hand-dyeing yarn. Obviously there are tons of beautiful yarns with expertly crafted color ways and uniquely painted patterns, but it was so much fun to get a behind-the-scenes look at how some of my favorite yarns are produced.
The class focused on the microwave dyeing of protein yarns (animal fibers like alpaca, yak, angora, etc.) with pre-mixed acid dyes. The process was incredibly easy and offered a ton of room for experimentation with striping and patterns. In our class, we used a pre-mixed acid dye from a brand called Country Classics. We each received two skeins of super-wash merino to transform into a colorful bundle of fiber goodness.
We first wet the yarn in a vat of hot water, and then ringed it out to get rid of excess moisture. The acid dye that we were using came in powder form, so getting the yarn wet was a vital first step for adhesion. After our yarn was prepped and ready for painting, we mixed about a teaspoon of the powdered dye with a splash of water to create a concentrated liquid. We used cups, spoons, and straws to create stripes, dots, and gradients. After another thorough squeeze to sop up the extra moisture, we wrapped our skeins in plastic wrap and placed them in the microwave for about five minutes to set.
The skeins rested for about 20-30 minutes, and were then rinsed out in the sink to get rid of any residual dye. The end result was a room full of colorful fiber bundles, each unique to its owner. Microwave dyeing was so much easier and cleaner than I thought it would be. I can't wait to buy more yarn and experiment with even more dye colors!
Bonus: Our AllFreeCrochet editor took a class all about photographing your finished patterns. Check it out here!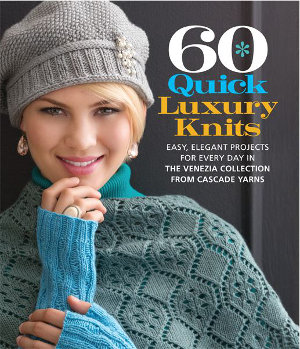 60 Quick Luxury Knits
Gifted By: Sixth and Spring Books
We are giving away one copy of 60 Quick Luxury Knits: Easy, Elegant Projects for Every Day in the Venezia Collection from Cascade Yarns to one lucky winner.  The deadline to enter is August 20, 2014 at 11:59:59 PM Eastern Time.
Have you ever dyed your own yarn?
Latest posts by AllFreeKnitting
(see all)