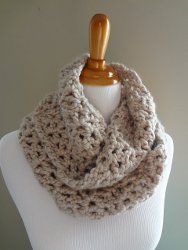 I'm currently wearing the coziest infinity scarf in the world. And guess what? I made it. And I absolutely love it.
I'll tell you why. It's the first cowl I've ever made and it may be the best pattern ever. No joke. This Classic Infinity Scarf pattern can be found on AllFreeCrochet and was made by Jennifer Dickerson from Fiber Flux. You should check out her other patterns too. They are easy to read and super fun to crochet. You just can't go wrong with this pattern or any of her other scarf patterns. Thanks Jennifer!
I first started this scarf a about month ago. While the foundation chain was a little complicated, another editor and I were able to figure it out and it was smooth sailing from there. I used Lion Brand's Wool Ease yarn in Fisherman. Some people may think the color is boring, but it's just so pretty and matches just about everything  I own. I worked on this scarf during my lunch hours and crocheting helped me relax and de-stress. Seriously, this scarf was a joy to crochet.
After weaving in all my ends, I decided to try blocking the scarf. While the yarn is 80% acrylic/20% wool, I knew that a bit of dry blocking would help loosen the stitches and soften the wool. I laid out the scarf on an ironing board, pinned the edges so they were even, and spritzed the entire scarf until it was nice and damp. I let it sit overnight and waited until it was completely dry. I'm really glad I blocked this scarf because the stitches became more flexible and the yarn definitely feels softer. Overall, a great blocking experience.
So I sat looking at my scarf and debated with my mother whether to connect the ends as the pattern instructed or to leave it unconnected. I initially balked at the idea of not "finishing" this scarf. However, my mom brought up a good point: "You don't want to ruin your hair every time you put this scarf on, do you?"
She was right. And specifically, I wanted to wear this scarf for my engagement photos the following day (I know, exciting right?!). So we settled on leaving it unconnected and using a vintage pin to connect the ends together. I could always connect the scarf later to make it a "true" infinity scarf. So far, I love it with the pin and I get to interchange the pin to match my outfits.
My fiancé and I got our photos taken by Ashley of Ashley Biess Photography in downtown Chicago. We had so much fun and all the photos turned out amazing! The scarf I made seems to add the perfect touch of cozy and chic to these photos. I think it's a lot of fun to tell people that I made the scarf I wore in these photos. Happiness is handmade, after-all.
Have you ever crocheted an infinity scarf?
Latest posts by AllFreeCrochetAfghanPatterns
(see all)