It's always fun to take credit for your children's Halloween costumes. This year, knit the best homemade Halloween costumes [3] for kids with these amazing patterns. There's a style for any child's wish or whimsy. From sweet frosted cupcakes to scary knit sweater patterns [4], this collection of homemade Halloween costumes for kids is sure to delight the knitter as well as the wearer.
[5]
Homemade Halloween Costumes for Kids: 10 Easy Knitting Projects
Jessie the Cowgirl Hat [6]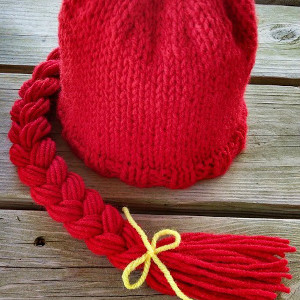 [6] – No need to bother with a scratchy store-bought wig this year. Instead, whip up a simple knit hat pattern for a homemade Halloween costume your little girl is sure to love. This simple stockinette stitch cap is adorned with a darling braid just like Jessie from Toy Story 2! Pair this adorable hat with a soft flannel shirt and overalls for a quick and cozy homemade Halloween costume.
Kids' Tuxedo Costume [7] – He'll be the most dapper trick-or-treater on the block in this adorable knit cardigan pattern. The Kids' Tuxedo Costume is sure to be a Halloween go-to for years to come. Have him don this homemade Halloween costume with a bit of white face paint and a fake silver platter for a ghoulish butler vibe.
Perfect Pumpkin Hat [5]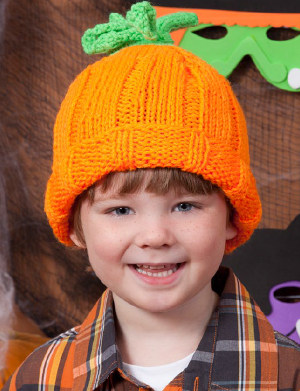 [5] – The classiest of homemade Halloween costume ideas! The Perfect Pumpkin Hat proves that you don't have to go out of your way to look festive for trick-or-treating. This simple knit hat pattern features a simple rib pattern with a simple stem applique. Knit one for each member of your pumpkin patch family.
Very Scary Pullovers [8] – When knitting homemade Halloween costumes for kids, comfort is key. It's important to remember that no matter how spooky your child looks, it won't matter if he isn't warm while collecting candy around the neighborhood. Make sure he stays cozy in the Very Scary Pullover. Choose from a traditional pumpkin design or ghoulish skull and crossbones.
Child's Foxy Tunic [9]
[9] – Foxes are so in right now, so make sure your child has the trendiest homemade Halloween costume on the block! The Child's Foxy Tunic is a simple knit dress pattern she'll love. Pair this darling dress with a face-painted whiskers and fun pigtails for a wild look she'll love roaming around the neighborhood in.
Cupcake Cutie [10] – Only the sweetest of homemade Halloween costumes for kids will do for your own little one. This darling Cupcake Cutie costume features a fun strawberry headband, cape-like icing, and a skirt for the bottom. Have fun experimenting colors for her favorite flavor of frosting.
[11]Little Flamenco Dancer [11] – You'll love being able to take credit for this homemade Halloween costume. The Little Flamenco Dancer features a fun ruffled skirt and neckline detail. Pair this festive and fun knitted costume with a pair of castanets for a costume the whole neighborhood will remember for years to come.
Mr. Monster Pullover [12] – Make sure your little monster stays nice and warm while he roams the neighborhood in search of candy this year in the Mr. Monster Pullover. This simple homemade Halloween costume for kids is sure to be handed down in your family for years to come.
Despicable Me Minion Hat [13] – Let them dress as their favorite tiny cartoon characters this Halloween in the Despicable Me Minion Hat! This adorable knit hat pattern features a simple colorwork pattern and a bit of ribbing for a cute and cozy cap they'll want to wear long after Halloween is over.
Brave Viking Helmet [14] – Brave the beasts of the neighborhood (AKA: the dog next door) this year in the Brave Viking Helmet. This swashbuckling homemade Halloween Costume is sure to be the talk of the town. A simple stockinette stitch cap is adorned with a furry brim and two pretend horns.

Bonus!
This is the LAST DAY to win our amazing Spinzilla 2014 giveaway! Check out our post here for more details [15]!
Would you knit any of these homemade Halloween costumes for kids?