Last weekend a few of our editors from AllFreeCrochet and AllFreeKnitting enjoyed a respite from the polar vortex and jetted off to sunny California for the annual Craft and Hobby Association (CHA) Conference & Trade Show. Aside from a weekend of warm weather, our editors enjoyed roaming the trade show floor, visiting craft and yarn companies from all over the world. Can you imagine?
Hundreds of creative and crafty people gathered together under one roof! Not to mention all the yarn! Skeins upon skeins of beautiful fibers and innovative, gorgeous patterns. Our editors came back with goodie bags full crafting supplies and a slight tan, but most importantly, they came back with the scoop on the latest yarn trend: pom poms. That's right! DIY pom poms were all over the CHA trade show floor. Every yarn company booth was proudly displaying their newest, most stylish patterns with fluffs of cute and colorful pom poms.
It's no surprise that knit and crochet designers are all over these balls of fluff. DIY pom poms add a playful, unique touch to your projects that ordinary appliques can't be beat. And don't think that these tiny balls of yarn are just for kids. There are plenty of easy crochet patterns as well as tons of easy knitting projects for adults that feature DIY pom poms in a grown up way. Check out some of AllFreeCrochet and AllFreeKnitting's stylish patterns that feature the latest yarn trend: DIY pom poms.
How to Make Yarn Pom Poms
Want to hop on the pom pom train but not sure where to begin? Click the icon below for an easy DIY pom pom tutorial!

Easy Crochet Patterns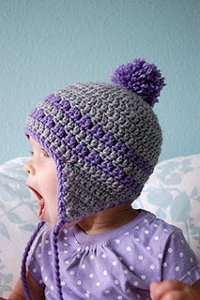 Peppermint Pom Pom Headband – This adorable girl's crochet headband is perfect for a little fashionista in training.
Purple and Gray Earflap Hat (shown on the right) – This adorable earflap hat is a whimsical take on a winter classic.
Pom Pom Cardigan – Everything looks a little cuter with a pair of pom pom tassels. This cardigan is no exception!
Moss Stitch Beanie – This attractive crochet hat pattern is the perfect mix of versatility, practicality, and style!
Retro Crochet Hat (shown on right) – Channel your inner 80s ski resort persona in this fun crochet hat.
Easy Pointed End Scarf – A warm option for a chilly winter day, this cozy scarf features two big poms at either end.
Sweet Slipper Crochet Pattern – The sweet little pom poms are just the cherry on top of these charming slippers.
Diamond Pom Pom Scarf – Take on the day in confidence while wearing this fashionable pink scarf.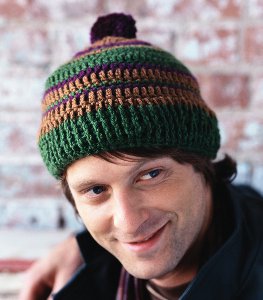 Tutti Frutti Toddler Hat  – As if baby hats without pom poms weren't cute enough!
Easy Knitting Projects
Weekend Winter Hat (shown on right) – The classic knit winter hat all grown up!
Stylish Pom Pom Scarf – Wrap your little princess up in this adorable children's knit scarf.
Baby Jester Hat – Perfect for playing in the snow or crawling around on the floor, this jester-style hat is too cute not to knit.
Big Pom Baby Beanie – The essential baby winter hat pattern (not to mention the easiest!).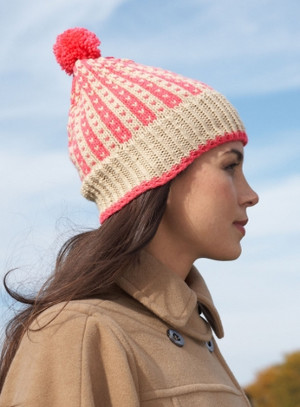 Comfy Slipper – These periwinkle blue beauties are a sweet treat for your feet.
Candy Shoppe Hat – A polka dot classic, this knit hat is an adorable way to stay warm all season long.
Arctic Pom Beanie – Chic and stylish, this hat sets the the pom pom trend on fire!
Painted Desert Beanie – A colorful way to don the pom.
Snowbunny Cowl and Hat Set – The only thing better than a pom pom hat is a cowl to match!
Will you be donning pom poms this season?
Latest posts by AllFreeKnitting
(see all)