Our friends at AllFreeCrochetAfghanPatterns have been hard at work! They've been busy creating the ultimate guide to learning crochet. Everything you've ever wanted to know about crochet, you can now find at AllFreeCrochetPatterns, including crochet stitch tutorials, instructions on how to read a crochet pattern, and beginner crochet afghan patterns to get you started. They've even published a brand new free eBook, How Do I Crochet? 13 Basic Crochet Stitches and Free Beginner Crochet Afghan Patterns eBook, that is chock full of beginner patterns and tutorials.
For a special sneak-peek of this ultimate crochet guide, check out some of these great tutorials below. If you or someone you know has been wondering "how do I crochet?" then we suggest you check out one (or all) of these super helpful articles. Learning crochet can be difficult if you don't have the right tools. Lucky for you,  all the tools you need to learn how to crochet are literally at your fingertips. You will learn everything there is to know about the basics of crochet. Use these tutorials to teach yourself how to crochet or to teach someone else how to crochet.
Free Crochet Tutorials: Crochet Stitches
Here's a sneak peek of just a few of our favorite crochet stitches. For our complete collection, check out our new article, How Do I Crochet: 12 Crochet Stitches for Beginners. It will teach you everything you need to know about the most common stitches in crochet. Here are some of our favorites:
Chain Stitch and Single Crochet
Basketweave Stitch (above left)
Picot Stitch (above center)
Popcorn Stitch (above right)
How To Read A Crochet Pattern
You've learned how to crochet the basic stitches and now you're ready to crochet your first crochet afghan! There's just one problem: the pattern looks like a foreign language! Let us help with this great video tutorial, How Do I Crochet: Learn How to Read a Crochet Pattern.
Beginner Crochet Afghan Patterns
Now that you've learned a few basic crochet stitches and how to read a crochet pattern, it's time to make an afghan! We've rounded up some of our favorite beginner crochet patterns and easy crochet patterns in our latest collection, "How Do I Crochet?" 14 Free Beginner Crochet Afghan Patterns to Get You Started. Check out our top three picks below:

World's Easiest Afghan

Rainbow Days Afghan

Beginner's Round Ripple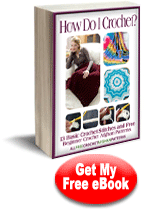 Find all these patterns and more in our latest eBook, How Do I Crochet? 13 Basic Crochet Stitches and Free Beginner Crochet Afghan Patterns
Have you ever taught someone how to crochet, including yourself?
Tell us about it below!
Latest posts by AllFreeCrochet
(see all)