When the arm knitting craze first started, I will admit I was a little skeptical. Even though my Pinterest feed was clogged with brightly colored photo tutorials and step-by-step arm knitting videos, I really thought the fad would be over by now. I had chalked it up to another form of cat's cradle. I couldn't see what all the hullabaloo was about. It's not really knitting, is it?
As a gal who learned how to knit with needles, not her arms, I had a hard time accepting this new style of knitting. How could it be so fabulous? It took me awhile to even experiment with this new trend. But when I did, my perception about it totally changed.
Although arm knitting will never replace traditional needle knitting, it's still an enjoyable and completely satisfying pastime that I encourage you all to try. It's incredibly easy to learn how to arm knit, which makes it a great craft for children or fledgling knitters. I found it interesting to see how the same fundamental concepts of knitting can be achieved with your own limbs. The best part about arm knitting is that it takes half the time as traditional needle knitting to complete a project. A simple knit cowl pattern or knit scarf will take less than an hour!
If you're interested in learning how to arm knit, our friend and knitting designer Mary Beth Temple has a great video tutorial that's tailored for people who learned how to knit with needles. Learn how to arm knit with the efficiency of industry terms and well-known knitting phrases.
If you prefer a written tutorial with large graphics and clear images, Anne Weil from Flax & Twine spells it out perfectly.

Easy Arm Knitting Patterns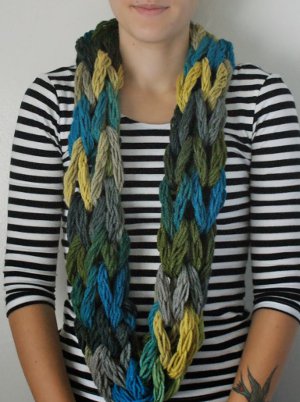 15 Minute Arm Knit Infinity Scarf – You'll spend a longer time deciding which color yarn you want for this lightning-fast arm knit scarf than the time it takes to actually make it!
Speedy Infinity Scarf – (shown on right) Another quick project, the Speedy Infinity Scarf makes a great last minute gift for a fashionable friend. Try variegated yarn for a funky look or a bold solid for a preppy vibe.
Easiest Arm Knit Cowl Ever – (featured image) This thick and cozy knit cowl pattern is the perfect remedy for a dreary day of April showers.
One Hour Arm Knit Blanket – Scarves and cowls aren't the only thing you can arm knit. You won't believe how quickly this blanket knits up. This makes a great gift for students going off to college for the first time.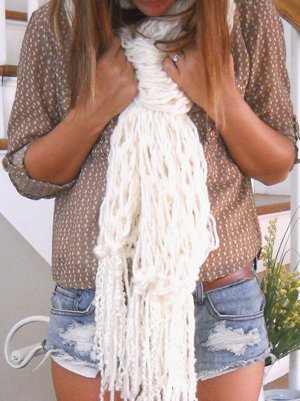 30 Minute Arm Knit Fringe Scarf – Bohemian chic, the 30 Minute Arm Knit Fringe Scarf proves you don't have to spend all day to look fabulous.
Eggplant and Orchid Cowl – This pretty purple arm knit cowl adds the perfect combination of elegance and comfort to your ensemble.
Arm Knit Knotted Cowl – A simple knot adds interest and texture to a basic arm knit cowl.
Elegant Arm Knit Scarf – Simple yet stunning, this Elegant Arm Knit Scarf makes a statement you'll love taking credit for.
Finger Crochet Afghan Pattern – as a fun alternative, try this unique finger crochet afghan pattern.  It's just as easy, chunky and cuddly as arm knit projects.
Are you a fan of arm knitting?
Latest posts by AllFreeKnitting
(see all)